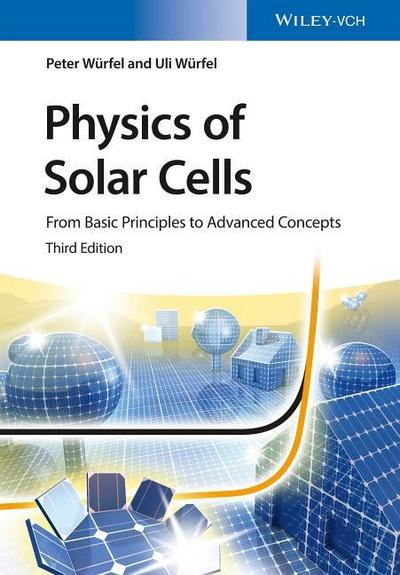 Physics of Solar Cells
From Basic Principles to Advanced Concepts
1 Problems of the Energy Economy
2 Photons
3 Semiconductors
4 Conversion of Thermal Radiation into Chemical Energy
5 Conversion of Chemical Energy into Electrical Energy
6 Basic Structure of Solar Cells
7 Limitations on Energy Conversion in Solar Cells
8 Concepts for Improving the Efficiency of Solar Cells
9 Characterization of Solar Cells (NEW)
9.1 Spectral Response
9.2 Quasi Steady-State Photoconductance (QSSPC)
9.3 Photoluminescence
9.4 Electroluminescence
9.5 Thermography
9.6 Light Beam Induced Current (LBIC)
9.7 Suns-VOC
9.8 Transient Techniques (Photovoltage Decay, Transient Absorption, Charge Extraction Through Linearily Increasing Voltage, Impedance Spectroscopy)
10 Prospects for the Future
Studenten, die mehr über die Grundlagen von Solarzellen erfahren möchten, werden von diesem Buch in hohem Maße profitieren. Auch Forscher, die sich erstmals mit der Erforschung von Solarzellen beschäftigen, erhalten ein nützliches Referenzwerk.

Autor: Peter Würfel, Uli Würfel
Peter Würfel studied physics at the University of Karlsruhe where he later became Professor. His research activities started with ferroelectric thin films, mostly for pyroelectric infrared detectors. He has a keen interest in the physics of photovoltaics and has more than 25 years research and teaching experience in this field.Uli Würfel studied physics at the Universities of Freiburg and Heidelberg. He received a PhD from the University of Freiburg in 2006. Since 2009 he is head of the group "dye and organic solar cells" at the Fraunhofer Institute for Solar Energy Systems (ISE) in Freiburg. Besides an ambition to realize low-cost organic solar cells, he is also highly interested in selective contacts and modelling solar cells.
Autor: Peter Würfel
ISBN-13 :: 9783527413126
ISBN: 352741312X
Erscheinungsjahr: 03.08.2016
Verlag: Wiley VCH Verlag GmbH
Gewicht: 641g
Seiten: 274
Sprache: Englisch
Auflage 16003, 3. Auflage
Sonstiges: Taschenbuch, 249x172x17 mm, 150 schwarz-weiße Abbildungen, 10 schwarz-weiße Tabellen