Autor:
Oleg G. Okhotnikov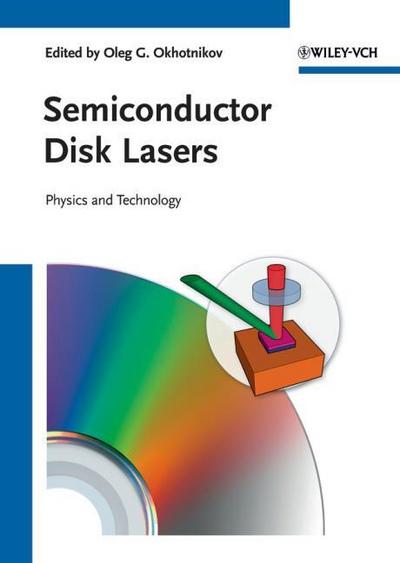 Semiconductor Disk Lasers
Physics and Technology
1. VECSEL Semiconductor Lasers: A Path to High-Power, Quality Beam, and UV to IR Wavelength by Design
2. Thermal Management, Structure Design, and Integration Considerations for VECSELs
3. Red Semiconductor Disk Lasers by Intracavity Frequency Conversion
4. Long-Wavelength GaSb Disk Lasers
5. Semiconductor Disk Lasers based on Quantum Dots
6. Mode-locked Semiconductor Disk Lasers
7. External-Cavity Surface-Emitting Diode Lasers
This timely publication presents a review of the most recent developments in the field of Semiconductor Disk Lasers. Covering a wide range of key topics, such as operating principles, thermal management, nonlinear frequency conversion, semiconductor materials, short pulse generation, electrical pumping, and laser applications, the book provides readers with a comprehensive account of the fundamentals and latest advances in this rich and diverse field.
In so doing, it brings together contributions from world experts at major collaborative research centers in Europe and the USA. Each chapter includes a tutorial style introduction to the selected topic suitable for postgraduate students and scientists with a basic background in optics - making it of interest to a wide range of scientists, researchers, engineers and physicists working and interested in this rapidly developing field. It will also serve as additional reading for students in the field.
Editiert von: Oleg G. Okhotnikov
Oleg G. OKHOTNIKOV was awarded a Ph.D. (1981) and D.Sc. (1992) from the Russian Academy of Sciences both in Laser Physics. Since 1999 he has been a full-time Professor at Optoelectronics Research Centre, Tampere University of Technology, Finland. His experimental background includes mode-locked and single-frequency tuneable semiconductor and fibre lasers. He has a substantial experience in advanced diode-pumped fibre lasers and amplifiers, spectroscopy of rare-earth laser materials, and semiconductor lasers. Other research topics include semiconductor disk lasers and photonic band gap structures. He has published more than 170 journal papers, 130 conference presentations and holds 6 patents.Chapter authors:
Mircea GUINA, Optoelectronics Research Centre, Tampere, Finland.
Ursula KELLER, ETH Zurich, Switzerland.
Thomas SÜDMEYER, ETH Zurich, Switzerland.
Martin D. DAWSON, Professor and Associate Director, Institute of Photonics, University of Strathclyde, UK.
Stephane CALVEZ, Associate Team Leader at the Institute of Photonics, University of Strathclyde, UK.
Jennifer E. HASTIE, Institute of Photonics, University of Strathclyde, UK.
Nicolas LAURAND, research fellow, Institute of Photonics, University of Strathclyde, UK.
Alan J. KEMP, Institute of Photonics, University of Strathclyde, UK.
David BURNS,Solid-State Laser Team Leader at the Institute of Photonics, University of Strathclyde, UK.
Udo W. POHL Center for Nanophotonics at Technical Universty of Berlin, Germany.
Dieter BIMBERG, Applied Solid State Physics at Technical Universty of Berlin, director of the Center of Nanophotonics at TU Berlin, Germany.
Mark KUZNETSOV, Advanced Technology at Axsun Technologies, USA.
Joachim WAGNER, Physics Department, University of Freiburg & Materials Research Center Freiburg (FMF), Germany.
Juan CHILLA, High Power OPS Business Unit at Coherent, USA.
Aram MOORADIAN, founder (1998) and Chief Technology Officer of Novalux, Inc., USA
GLEN CAREY, Solyndra Corporation, Fremont, California, USA.
ANDREI SHCHEGROV, Spectralus Corporation, USA
ASHISH TANDON, Stion Corp., San Jose, CA, USA.
GIDEON YOFFE, Santur Corporation in Fremont, California,
Benno RÖSENER, Fraunhofer-Institut für Angewandte Festkörperphysik (IAF), Germany
Marcel RATTUNDE, Fraunhofer-Institut für Angewandte Festkörperphysik (IAF), Freiburg, Germany.
Joachim WAGNER, Fraunhofer-Institut for Applied Solid State Physics, Freiburg (Germany)
Autor: Oleg G. Okhotnikov
ISBN-13 :: 9783527409334
ISBN: 3527409335
Erscheinungsjahr: 19.04.2010
Verlag: Wiley VCH Verlag GmbH
Gewicht: 773g
Seiten: 314
Sprache: Englisch
Sonstiges: Buch, 250x178x23 mm, 175 schwarz-weiße und 25 farbige Abbildungen