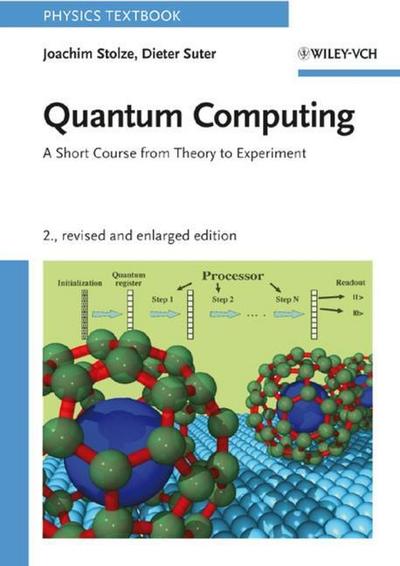 Quantum Computing
A Short Course from Theory to Experiment
1. Introduction and Survey
2. Physics of Computation
3. Elements of Classical Computer Science
4. Quantum Mechanics
5. Quantum Bits and Quantum Gates
6. Feynman's Contribution
7. Errors and Decoherence
8. Tasks for Quantum Computers
9. How to Build a Quantum Computer
10. Liquid State NMR Quantum Computer
11. Trapped Ions and Atoms
12. Solid state Quantum Computers
13. Photons for Quantum Information
A. Two spins 1/2:Singlet and Triplet States
B. Bibliography
C. Index
Second edition of the successful textbook which has emerged from a lecture series. The compact introduction addresses graduate students with a reasonably good background in physics, notably in quantum mechanics, plus some knowledge in introductory statistical mechanics and solid-state physics. The authors explain basic concepts from quantum mechanics and computer science which are used throughout the whole field of quantum computing and quantum communication. This second edition reflects the rapid development of the main ideas and techniques, e.g. by including the most recent experiments on cold atoms.
Autor: Joachim Stolze, Dieter Suter
Dieter Suter is an experimentalist and well known for his NMR-work. He is currently working on quantum computation projects. Joachim Stolze is an expert on the theory of quantum computation. His topic research area is quantum spin chains. Both authors are known to have excellent didactic skills.
Autor: Joachim Stolze
ISBN-13 :: 9783527407873
ISBN: 3527407871
Erscheinungsjahr: 01.02.2008
Verlag: Wiley VCH Verlag GmbH
Gewicht: 561g
Seiten: 265
Sprache: Englisch
Auflage 08002, 2. aktualis. u. erw. Auflage
Sonstiges: Taschenbuch, 245x173x14 mm