Autor:
Christoph Bochinger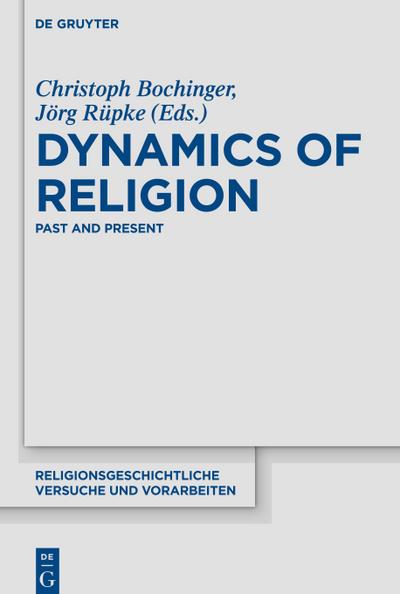 Dynamics of Religion
67, Religionsgeschichtliche Versuche und Vorarbeiten
Past and Present. Proceedings of the XXI World Congress of the International Association for the History of Religions
Religious ideas, practices, discourses, institutions, and social expressions are in constant flux. This volume addresses the internal and external dynamics, interactions between individuals, religious communities, and local as well as global society. The contributions concentrate on four areas: 1. Contemporary religion in the public sphere: The Tactics of (In)visibility among Religious Communities in Europe; Religion Intersecting De-nationalization and Re-nationalization in Post-Apartheid South Africa;2. Religious transformations: Forms of Religious Communities in Global Society; Political Contributions of Ancestral Cosmologies and the Decolonization of Religious Beliefs; Esoteric Tradition as Poetic Invention; 3. Focus on the individual: Religion and Life Trajectories of Islamists; Angels, Animals and Religious Change in Antiquity and Today; Gaining Access to the Radically Unfamiliar in Today's Religion; Religion between Individuals and Collectives; 4. Narrating religion: Entangled Knowledge Cultures and the Creation of Religions in Mongolia and Europe; Global Intellectual History and the Dynamics of Religion; On Representing Judaism.
Editiert von: Christoph Bochinger, Jörg Rüpke
Christoph Bochinger, University of Bayreuth,Germany and Jörg Rüpke, Max-Weber-Kolleg, University of Erfurt, Germany.
Autor: Christoph Bochinger
ISBN-13 :: 9783110450927
ISBN: 3110450925
Erscheinungsjahr: 01.01.2017
Verlag: Gruyter, Walter de GmbH
Gewicht: 565g
Seiten: 296
Sprache: Englisch
Sonstiges: Buch, 241x164x23 mm
Mehr von

Weitere Artikel von