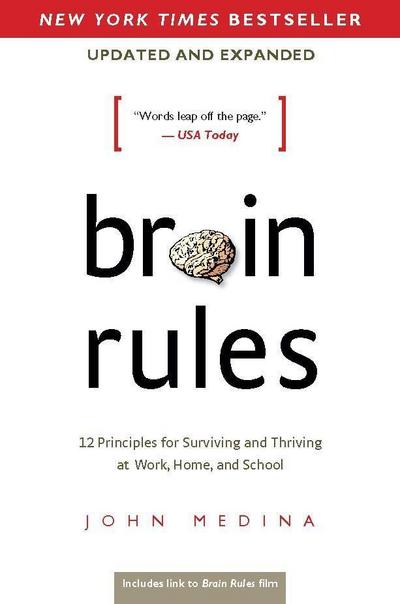 survival The human brain evolved, too. exercise Exercise boosts brain power. sleep Sleep well, think well. stress Stressed brains don't learn the same way. wiring Every brain is wired differently. attention We don't pay attention to boring things. memory Repeat to remember. sensory integration Stimulate more of the senses. vision Vision trumps all other senses. music Study or listen to boost cognition. gender Male and female brains are different. exploration We are powerful and natural explorers.
Updated and expanded edition of the "New York Times" bestseller. Molecular biologist Dr. John Medina shares his lifelong interest in how the brain sciences might influence the way we teach our children and the way we work, describing a brain rule in each chapter, accompanied by a transformative idea for our daily lives.
Autor: John Medina
John Medina is a developmental molecular biologist and research consultant. He is an affiliate professor of bioengineering at the University of Washington School of Medicine. He was the founding director of two brain research institutes: the Brain Center for Applied Learning Research, at Seattle Pacific University, and the Talaris Research Institute, a nonprofit organization originally focused on how infants encode and process information. Medina lives in Seattle, Washington, with his wife and two boys.
Autor: John Medina
ISBN-13 :: 9780983263371
ISBN: 098326337X
Erscheinungsjahr: 08.05.2014
Verlag: Ingram Publisher Services
Gewicht: 449g
Seiten: 288
Sprache: Englisch
Auflage Updated edition
Sonstiges: Taschenbuch, 233x156x22 mm
Mehr von

Weitere Artikel von