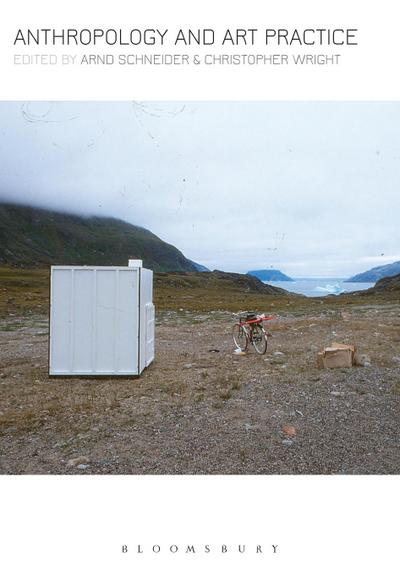 Anthropology and Art Practice
1
Anthropology and Art Practice explores the relationship between the arts and anthropology, inspiring further debate and offering essential reading for students and practitioners alike.
4
Introduction - Arnd Schneider & Christopher Wright Agit-kino: Iteration No.2 - Craig Campbell, University of Texas at Austin, USA Entrada Prohibida (Forbidden Entry) - Juan Orrantia, University of Witwatersrand, South Africa In Conversation with Christopher Wright - Anthony Luvera, Independent Australian Artsist, Writer and Educator based in London, UK Traversing Art Practices and Anthropology: Notes on Ambiguity and Epistemological Uncertainty - Thera Mjaaland, Independent Photographer and Social Anthropologist, Norway Surgery Lessons - Christina Lammer, University of Applied Arts Vienna, Austria A Word is Not Always Just a Word, Sometimes It is an Image - Kathryn Ramey, Emerson College, USA Out of Hand: Reflections on Elsewhereness - Robert Willim, Lund University, Sweden On Collections and Collectivity - Brad Butler & Karen Mizr, Independent Artists and Filmmakers, UK In Conversation with Christopher Wright - Raul Ortega Ayala, Independent Artist, Mexico In-between - Jennifer Deger, The Australian National University, Australia An Imaginary Line: Active Pass to IR9 - Kate Hennesey, Simon Fraser University, Canada Dancing in the Abyss - Living with Liminality - Ruth Jones, Artist and Curator based in Wales, UK In Conversation with Helen Lundbye Petersen - Yvette Brackman, Independent Artist, Denmark With(In) Each Other: Sensorial Practices in Recent Audiovisual Work - Laurent Van Lancker, Freie Universitat Berlin, Germany In Praise of Slow Motion - Caterina Pasqualino, researcher, CNRS/LAIOS, France Sky-larks: an Exploration of a Collaboration Between Art, Anthropology and Science - Rupert Cox, University of Manchester, UK & Andrew Carlyle, London College of Communication, University of the Arts London, UK Bibliography Index
3
Anthropology and Art Practice is a practice-based text looking at experimental work informed by the newly-reconfigured relationship between arts and anthropology. Focussing on key works from artists and anthropologists it challenges assumptions made on both sides of the art/anthropology divide and will incite debate amongst scholars in the field.

Editiert von: Arnd Schneider, Christopher Wright
Arnd Schneider is Professor of Social Anthropology at the University of Oslo, Norway. Christopher Wright is a lecturer in Anthropology at Goldsmiths, University of London, UK where he teaches visual anthropology.
Autor: Arnd Schneider
ISBN-13 :: 9780857851802
ISBN: 0857851802
Erscheinungsjahr: 24.10.2013
Verlag: Bloomsbury Academic
Gewicht: 339g
Seiten: 168
Sprache: Englisch
Sonstiges: Taschenbuch, 244x169x12 mm, 75 black & white & 8 color
Mehr von

Weitere Artikel von