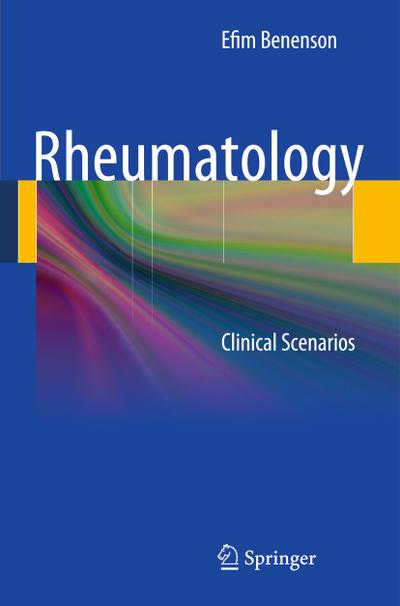 Rheumatology
Clinical Scenarios
Problem-based teaching brings about more active and effective learning by the reader
The gallery of images provides a selection of illustrations and clinical situations which can be tried out as a self-assessment test and study programme
Exhaustive list of the rheumatological symptoms and syndromes
Diagnostic Training and Rheumatology Trees.- Explanations of Figures and Case Reports with Individual Therapeutic Options.- Index of Figures and Clinical Scenarios with Syndromes (for self-assessment).
Rheumatology: Clinical Scenarios is a case-based learning tool for trainees in rheumatology.  Professor Efim Benenson presents 73 clinical scenarios and 156 clinical images for the student of rheumatology to diagnose, whilst his expert commentary is provided in a separate section.   As a further diagnostic aid, two 'Rheumatology Trees' are provided which summarize in turn the articular and musculoskeletal disorders, as well as the connective tissue disorders and vasculitides.

 Professor Benenson's practice-oriented, didactic approach, and innovative organization of the rheumatic diseases is a valuable diagnostic aid to practicing rheumatologists and those teaching or training in rheumatology. 

Readers are recommended the companion book, Rheumatology: Syndromes and Symptoms, for further reading on Professor Benenson's organization of the rheumatic diseases.
Autor: Efim Benenson
Efim Benenson, MD, is Professor of Internal Medicine and Rheumatology at the University of Cologne, Germany.
Autor: Efim Benenson
ISBN-13 :: 9780857292391
ISBN: 0857292390
Erscheinungsjahr: 01.03.2011
Verlag: Springer-Verlag GmbH
Gewicht: 276g
Seiten: 140
Sprache: Englisch
Auflage Edition
Sonstiges: Taschenbuch, 235x156x19 mm, 45 schwarz-weiße und 111 farbige Abbildungen, 2 farbige Tabellen
Mehr von

Weitere Artikel von
Mehr zum Thema