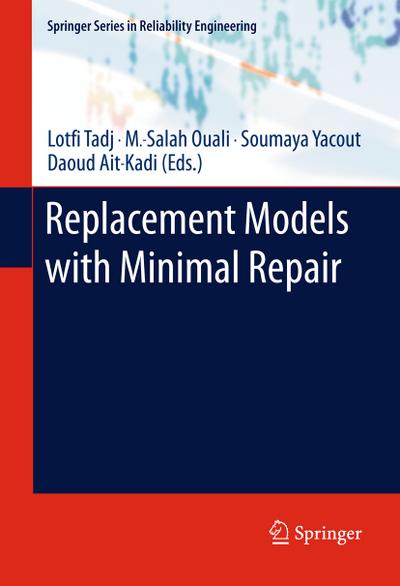 Replacement Models with Minimal Repair
Springer Series in Reliability Engineering
Gives readers information on all models in which minimal repair has been incorporated
1. A Survey of Replacement Models with Minimal Repair.- 2. Information-based Minimal Repair Models.- 3. Minimal Repair Models with Two Categories of Competing Failure Modes.- 4. Preventive Maintenance Models: A Review.- 5. Optimal Schedules of Two Periodic Imperfect Preventive Maintenance Policies and Their Comparison.- 6. Warranty Servicing with Imperfect Repair for Products Sold with a Two-Dimensional Warranty.- 7. A Survey of Burn-in and Maintenance Models for Repairable Systems.- 8. Filtering and M-ary Detection in a Minimal Repair Maintenance Model.- 9. Efficient Product Support - Optimum and Realistic Spare Parts Forecasting.
Replacement Models with Minimal Repair is a collection of works by several well-known specialists on the subject of minimal repair in replacement policies. It gives an exhaustive list of minimal repair models for the effective planning of minimal repair and maintenance actions.Written in an engaging style, Replacement Models with Minimal Repair balances complex mathematical models with practical applications. It is divided into six parts that cover:mathematical modeling of minimal repair;
preventive maintenance models and optimal scheduling of imperfect preventive maintenance activities;
a new warranty servicing strategy with imperfect repair;
mathematical models combining burn-in procedure and general maintenance policies;
methods for parameters' estimation of minimal repair models; and
product support.


Replacement Models with Minimal Repair is for anyone with an interest in minimal repair and its impact on maintenance policies and strategies. It is a particularly useful resource for researchers, practitioners, and graduate students.
Editiert von: Lotfi Tadj, M. -Salah Ouali, Soumaya Yacout, Daoud Ait-Kadi
Lotfi Tadj is Professor of Decision Sciences at the Department of Management and E-Business at the American University in Dubai (United Arab Emirates). He holds a BSc in Mathematics from the University of Algiers (Algeria), where he was also lecturer, an MSc in Applied Mathematics from Carnegie-Mellon University (USA) and a PhD in Operations Research from the Florida Institute of Technology (USA), where he was Research Assistant and then Adjunct Professor.
Autor: Lotfi Tadj
ISBN-13 :: 9780857292148
ISBN: 0857292145
Erscheinungsjahr: 01.04.2011
Verlag: Springer-Verlag GmbH
Gewicht: 572g
Seiten: 275
Sprache: Englisch
Sonstiges: Buch, 242x164x18 mm, 11 schwarz-weiße und 12 farbige Abbildungen, 7 schwarz-weiße Tabellen
Mehr von

Weitere Artikel von