Autor:
Fabrizio Caccavale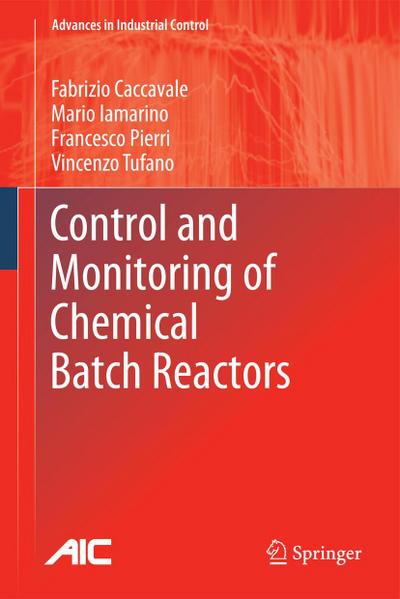 Control and Monitoring of Chemical Batch Reactors
Advances in Industrial Control
Provides researchers with a co-ordinated account of recent advances in batch process control and diagnosis
Alerts engineers in the chemical and pharmaceutical industries, to the benefits of the model-based approach to solving control and diagnosis problems
Use of a continuously-developed case study process demonstrates the practical nature of the methods proposed
Introduction.- Modeling of Chemical Batch Reactors.- Identification of Kinetic Parameters.- Model-based Control.- Fault Diagnosis.- Conclusions and New Directions.
The Chemical Batch Reactor is aimed at tackling the above problems from a blending of academic and industrial perspectives. Advanced solutions (i.e., those based on recent research results) to the four fundamental problems of modeling, identification, control and fault diagnosis for batch processes are developed in detail in four distinct chapters. In each chapter, a general overview of foundational concepts is also given, together with a review of recent and classical literature on the various subjects.
To provide a unitary treatment of the different topics and give a firm link to the underlying practical applications, a single case study is developed as the book progresses; a batch process of industrial interest, i.e., the phenol-formaldehyde reaction for the production of phenolic resins, is adopted to test the various techniques developed. In this way, a roadmap of the solutions to fundamental problems, ranging from the early stages of the production process to the complete design of control and diagnosis systems, is provided for both industrial practitioners and academic researchers.
Autor: Fabrizio Caccavale
ISBN-13 :: 9780857291943
ISBN: 0857291947
Erscheinungsjahr: 01.06.2011
Verlag: Springer-Verlag GmbH
Gewicht: 458g
Seiten: 186
Sprache: Englisch
Sonstiges: Buch, 243x163x23 mm, 62 farbige Abbildungen, 16 schwarz-weiße Tabellen
Mehr von

Weitere Artikel von