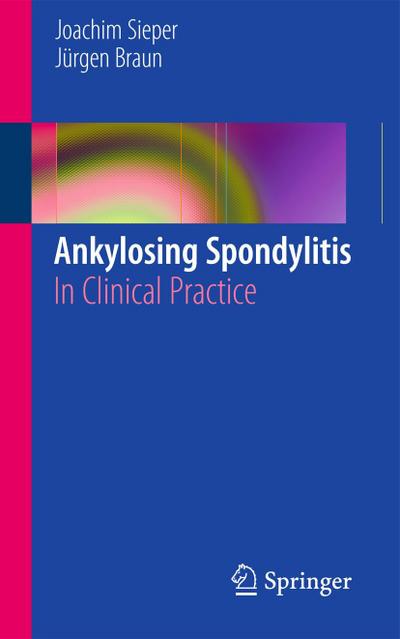 Ankylosing Spondylitis
In Clinical Practice
A concise, practical overview of the diagnosis, treatment and management of ankylosing spondylitis from an authoritative source
Introduction.- Overview of Ankylosing Spondylitis.- Clinical Manifestations of Ankylosing Spondylitis.- Diagnosis of Ankylosing Spondylitis.- Imaging in Ankylosing Spondylitis.- Management of Ankylosing Spondylitis.- Socioeconomic Aspects of Ankylosing Spondylitis.
Ankylosing Spondylitis in Clinical Practice is a concise, practical guide on the diagnosis and management of this debilitating condition. This book is aimed at clinicians who treat Ankylosing Spondylitis. It provides an authoritative, accessible guide to the diagnosis, management and treatment of ankylosing spondylitis.
Autor: Joachim Sieper, Jürgen Braun
Joachim Sieper, MD is Consultant and Head of Rheumatology at the Charité University Hospital, Campus Benjamin Franklin, Berlin, Germany. A prolific researcher and writer, he has been an investigator since 1989 and a principal investigator since 1993 on several placebo-controlled randomized trials, which have been published internationally. He has authored an contributed to over 300 journal papers. Jürgan Braun, MD is Medical Director of the Rheumatology Medical Centre, Ruhrgebiet in Herne, Germany and is a lecturer at the Ruhr University in Bochum, Germany. He is also an honorary Professor in Rheumatology at the Charité Medical School in Berlin, Germany. He has been the recipient of several prestigious awards including the Ankylosing Spondylitis Patients Association Award in 1996, the Tosse-Research Award in Pediatric Rheumatology in 1998, the Carol Nachman Research Award in 2000 and the EULAR prize in 2003.
Autor: Joachim Sieper
ISBN-13 :: 9780857291790
ISBN: 0857291793
Erscheinungsjahr: 01.06.2011
Verlag: Springer-Verlag GmbH
Gewicht: 178g
Seiten: 83
Sprache: Englisch
Sonstiges: Taschenbuch, 204x126x10 mm, 80 farbige Abbildungen
Mehr von

Weitere Artikel von