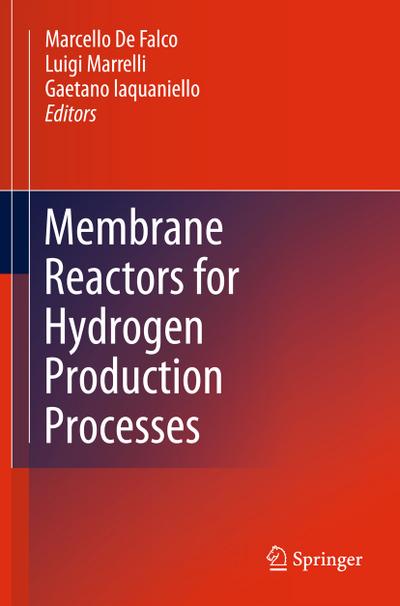 Membrane Reactors for Hydrogen Production Processes
Presents real applications of membrane reactor technology
Provides comprehensive coverage of a promising new technology
Assesses in detail three different hydrogen production plans
Introduction on Catalytic Reactors.- Membrane Reactors.- Selective Membranes: State of the Art and Performance.- Membrane Reactor Modelling.- Possible Process Configurations for Natural Gas Steam Reforming.- Reformer and Membrane Modules Plant (Simulations and Economic Evaluation).- Membrane Reformer Plant (Simulations and Economic Evaluation).- Solar Membrance Reformer Plant (Simulations and Economic Evaluation).
Membrane Reactors for Hydrogen Production Processes deals with technological and economic aspects of hydrogen selective membranes application in hydrogen production chemical processes.
Membrane Reactors for Hydrogen Production Processes starts with an overview of membrane integration in the chemical reaction environment, formulating the thermodynamics and kinetics of membrane reactors and assessing the performance of different process architectures.
Then, the state of the art of hydrogen selective membranes, membrane manufacturing processes and the mathematical modeling of membrane reactors are discussed. A review of the most useful applications from an industrial point of view is given. These applications include:natural gas steam reforming,
autothermal reforming,
water gas shift reaction,
decomposition of hydrogen sulphide, and
alkanes dehydrogenation.


The final part is dedicated to the description of a pilot plant where the novel configuration was implemented at a semi-industrial scale.
Plant engineers, researchers and postgraduate students will find Membrane Reactors for Hydrogen Production Processes a comprehensive guide to the state of the art of membrane reactor technology.
Editiert von: Marcello De Falco, Luigi Marrelli, Gaetano Iaquaniello
Marcello De Falco is an academic researcher and an expert in reactor modelling. He has about 25 publications on reactor simulations and membrane technology assessment.
Luigi Marrelli is Full Professor of Chemical Reactors and Dean of the Faculty of Engineering at University Campus Bio-Medico of Rome. He has 40 years academic research experience and about 100 publications on chemical thermodynamics, kinetics and reactor modelling.
Gaetano Iaquaniello is Vice President of Technology & Business Development at Tecnimont-KT S.p.A., a  major process engineering contractor. He has 35 years of experience in process development and plant design, and in industrial research activities. He graduated with honors in Chemical Engineering in 1975 from the University of Rome, Italy, with a PhD from U.E.R. des Sciences at University of Limoges, France, in 1984 and he has a Masters in Management from the London Business School, UK, which he received in 1997.
Autor: Marcello De Falco
ISBN-13 :: 9780857291509
ISBN: 0857291505
Erscheinungsjahr: 01.03.2011
Verlag: Springer-Verlag GmbH
Gewicht: 502g
Seiten: 235
Sprache: Englisch
Sonstiges: Buch, 245x164x20 mm, 111 schwarz-weiße Abbildungen, 29 schwarz-weiße Tabellen