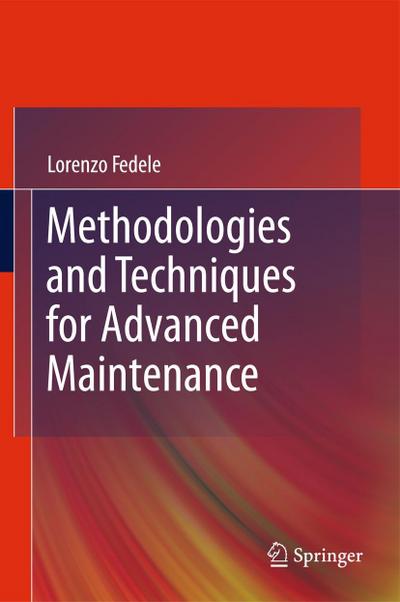 Methodologies and Techniques for Advanced Maintenance
Presents current state of the art in maintenance management, reliability and systems complexity

Consolidates the basic theories of maintenance

Includes various case studies
1. Introduction.- 2. Planning and Managing Maintenance.- 3. The Life Cycle of Products and Systems and Logistical Engineering.- 4. Maintenance Policies and Strategies.- 5. From Basic Maintenance to Advanced Maintenance.- 6. Testability and Prognostics.- 7. Intelligent Telematic Maintenance Systems for the Management of Technical Plants.- 8. Model for the Overall Evaluation of Management and Maintenance Contracts.- 9. The System of Unified Diagnostics and Standard Maintenance of Bridges and Infrastructures.
The management of technical plants for productivity and safety is generally a complex activity, particularly when many plants in one territory are affected, quality guarantees and cost results are required, and the technology involved is heterogeneous and innovative.

To enable readers to manage technical plants efficiently, despite the above complications, Methodologies and Techniques for Advanced Maintenance presents theories, methodologies and practical tools for the realization of an intelligent maintenance management system for distant monitoring. It also covers the development and running of a remote control center. The so-called granted availability management system (GrAMS) was conceived to enable organizations involved in technical-industrial plant management to move towards "well known availability" and "zero failures" management.

In particular, Methodologies and Techniques for Advanced Maintenance deals with the diagnostic aspects and safety levels of technical plants (such as elevators, thermo-technical plants, etc.). The author also discusses the usage of ad hoc designed software analysis tools based on neural networks and reliability indicators.

Methodologies and Techniques for Advanced Maintenance is a useful text for practitioners and researchers in maintenance and facilities. Its application spans industrial, plant, technological, infrastructure and civil fields.
Autor: Lorenzo Fedele
Lorenzo Fedele is an established researcher in the areas of maintenance management, reliability and safety of industrial plants. He has taught the course "Industrial Plants Safety" since 1997 and "Industrial Plants" since 2003 at University of Rome Sapienza. Since 2000, he has been Secretary General of the National Italian Committee for Maintenance and Chairman of the European Technical Committee involved in the standardization of maintenance. He has been involved in many research applicative projects funded by public and private organizations.
Autor: Lorenzo Fedele
ISBN-13 :: 9780857291028
ISBN: 0857291025
Erscheinungsjahr: 01.01.2011
Verlag: Springer-Verlag GmbH
Gewicht: 490g
Seiten: 222
Sprache: Englisch
Sonstiges: Buch, 242x165x23 mm, 62 schwarz-weiße Abbildungen, 39 schwarz-weiße Tabellen