Autor:
Aldo R. Boccaccini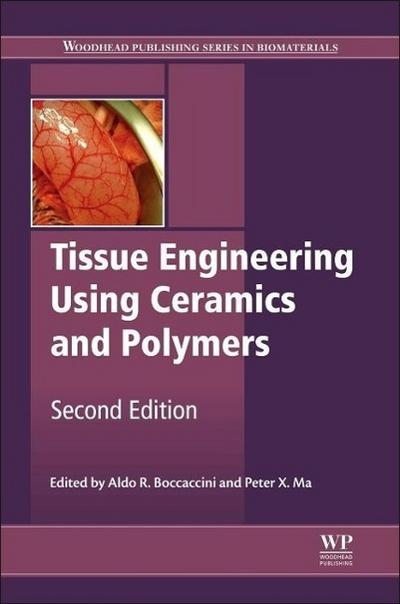 Tissue Engineering Using Ceramics and Polymers
85, Woodhead Publishing Series in Biomaterials Woodhead Publishing
Part 1 General issues - materials: Ceramic biomaterials for tissue engineering; Polymeric biomaterials for tissue engineering; Bioactive ceramics and glasses for tissue engineering; Biodegradable and bioactive polymer/inorganic phase ceramic composites for bone tissue engineering. Part 2 General issues - processing, characterisation and modelling: Nanoscale design in biomineralization towards the development of new biomaterials for bone tissue engineering; Characterisation of cells on biomaterial surfaces and tissue engineered constructs using microscopy techniques; Biomaterials for perfusion bioreactors used in tissue engineering; Transplantation of engineered cells and tissues; Carrier systems and biosensors for biomedical applications; From images to mathematical models. Part 3 Tissue and organ regeneration: Engineering of tissues and organs using ceramics and polymers; Myocardial tissue engineering using polymers; Kidney tissue engineering; Bladder tissue regeneration; Peripheral Nerve tissue engineering; issue engineering of the small intestine; Cartilage tissue engineering; Liver tissue engineering; Collagen based tubular constructs for tissue engineering applications; Multifunctional scaffolds for bone tissue engineering and in situ drug delivery; Bioceramic nanoparticles for tissue engineering and drug delivery.
The second edition of Tissue Engineering Using Ceramics and Polymers comprehensively reviews the latest advances in this area rapidly evolving area of biomaterials science. Part one considers the biomaterials used for tissue engineering. It introduces the properties and processing of bioactive ceramics and glasses, as well as polymeric biomaterials, particularly biodegradable polymer phase nanocomposites. Part two reviews the advances in techniques for processing, characterization, and modeling of materials. The topics covered range from nanoscale design in biomineralization strategies for bone tissue engineering to microscopy techniques for characterizing cells to materials for perfusion bioreactors. Further, carrier systems and biosensors in biomedical applications are considered. Finally, part three looks at the specific types of tissue and organ regeneration, with chapters concerning kidney, bladder, peripheral nerve, small intestine, skeletal muscle, cartilage, liver, and myocardial tissue engineering. Important developments in collagen-based tubular constructs, bioceramic nanoparticles, and multifunctional scaffolds for tissue engineering and drug delivery are also explained. Tissue Engineering Using Ceramics and Polymers is a valuable reference tool for both academic researchers and scientists involved in biomaterials or tissue engineering, including the areas of bone and soft-tissue reconstruction and repair, and organ regeneration.
Editiert von: Aldo R. Boccaccini, P. X. Ma
Professor Aldo R. Boccaccini is Professor of Biomaterials and Head of the Institute of Biomaterials at the University of Erlangen-Nuremberg, Germany. Professor Peter X. Ma is the Richard H Kingery Endowed Collegiate Professor at the University of Michigan, USA
Autor: Aldo R. Boccaccini
ISBN-13 :: 9780857097125
ISBN: 0857097121
Erscheinungsjahr: 25.06.2014
Verlag: Elsevier LTD, Oxford
Gewicht: 1199g
Seiten: 630
Sprache: Englisch
Auflage 14002, 2. Auflage
Sonstiges: Buch, 241x4x48 mm
Mehr von

Weitere Artikel von
Mehr zum Thema