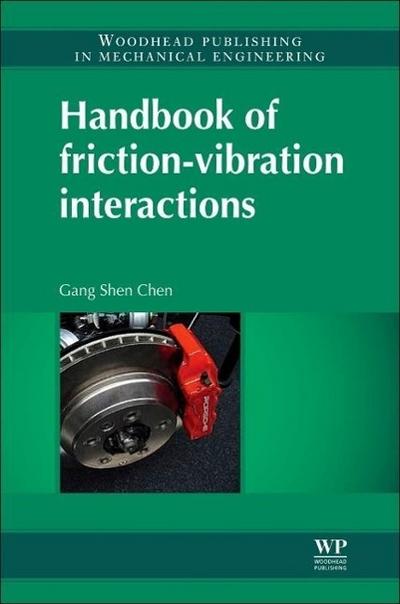 Handbook of Friction-Vibration Interactions
Woodhead Publishing
Linear system vibrations; Nonlinear vibrations; Random vibrations; Contact mechanics; Multiple scale contact; Adhesion; Friction; Friction-vibration interaction of single-degree-of-freedom system; Multiple-degree-of-freedom system; Continuous system; Effect of friction with negative slope; Stick-slip; Sprang-slip; Follower forces; Mode coupling; Effect of higher frequency excitation and ultrasonic excitation; Friction-vibration interactions in slider-disk interface in computer hard disk drive; Identification of friction-vibration interactions; Acoustic emission due to friction-vibration interactions and applications.
Friction-vibration interactions are common but important phenomena in science and engineering. Handbook of Friction-Vibration Interactions introduces the principles and provides the resources to understand and work with them. A unified theoretical framework includes some of the most important engineering applications. The first three chapters in the book introduce basic concepts and analytical methods of friction and vibration. The fourth chapter presents the general principles on friction-vibration interactions, and also touches on various engineering applications. In the fifth chapter the concepts and methods are extended to some of the most critical engineering applications in high-tech industry, presenting the friction-vibration interaction principle and applications in data storage systems.

Autor: Gang Sheng Chen
Gang Sheng Chen is J. Robert Fletcher Associate Professor in college of Information Technology and Engineering, Marshall University, Huntington, WV, USA. His industry experience includes work in multinational corporations. The author of 80 journal papers, books and chapters, recipient of five patents and twelve industrial/academic/association awards, Gang Sheng is a Fellow of ASME and serves on the editorial boards of three international journals. He holds B.S. and M.S. degrees from Shanghai Jiao Tong University, China, and a Ph.D. from Nanyang Technological University, Singapore.
Autor: Gang Sheng Chen
ISBN-13 :: 9780857094582
ISBN: 0857094580
Erscheinungsjahr: 15.05.2014
Verlag: Elsevier LTD, Oxford
Gewicht: 735g
Seiten: 386
Sprache: Englisch
Sonstiges: Buch, 241x161x35 mm
Mehr von

Weitere Artikel von