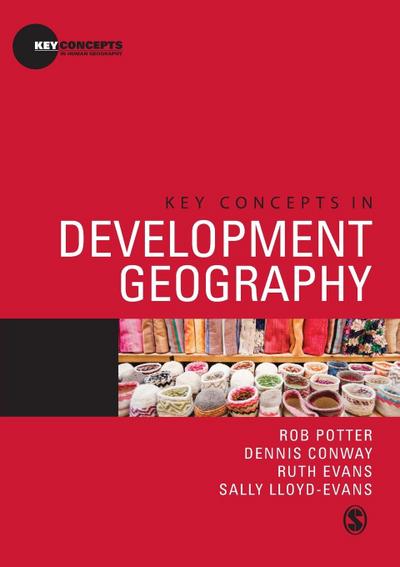 Key Concepts in Development Geography
1
An accessible and thought-provoking survey of this vast field. Emphasising the underlying concepts students need to understand and authored by world-renowned experts.
4
Introduction
Understanding Development
Introduction
Meanings of Development
Measuring Development
Space and Development
Defining and Measuring Poverty
The Millennium Development Goals
Theory and Practice of Development
Introduction
Modernity, Modernization, Postmodernism and Post-Structuralism
Radical Approaches to Development
Neo-Liberalism and Globalization
The Development Programmes of Global Institutions
Sustainable Development and Environmental Sustainability
Work, Employment and Development
Introduction
Rural Livelihoods and Sustainable Communities
Industrialization and the New International Division of Labour
Decent Work, Risk and the Informal Sector
The Digital Economy and New Spaces of Work
Global Trade, Aid and Regulation
People, Culture and Development
Introduction
Gender, Households and Development
Children, Youth and Development
Health, Disability and Development
Sexualities and Development
Ageing and Development
Contemporary Issues in Development
Introduction
Culture and Human Rights
Civil Society, Social Capital and Non-Governmental Organizations (NGOs)
Migration, Transnationalism and Development
Tobin-Type Taxes
3
Organized around 24 short essays, Key Concepts in Development Geography is an introductory text that provides students with the core concepts that form contemporary research and ideas within the development geography discipline. Written in a clear and transparent style, the book includes:

Autor: Rob Potter, Dennis Conway, Ruth Evans, Sally Lloyd-Evans
Professor Rob Potter is Professor of Human Geography at the University of Reading. His research and teaching interests span development geography and development studies; urban geography; return migration; transnationality and issues of identity. He is author of the texts Key Concepts in Development Geography (Sage, 2012), Geographies of Development (Pearson-Prentice Hall, 2008), The Companion to Development Studies (Hodder, 2008), Doing Development Research (Sage, 2006) and The Contemporary Caribbean, Pearson-Prentice Hall, 2005). He is the founding Editor-in-Chief of the interdisciplinary journal Progress in Development Studies and is currently a member of the International Editorial Boards of the journals Third World Quarterly, Journal of Eastern Caribbean Studies, and Blackwell Geography Compass. Rob Potter was elected to the Academy of Social Sciences in 2006 and in 2007 was awarded the degree of Doctor of Science (DSc) by the University of Reading, in recognition of his contributions to the fields of Geographies of Development and Urban Geography.
Autor: Rob Potter
ISBN-13 :: 9780857025852
ISBN: 0857025856
Erscheinungsjahr: 01.05.2012
Verlag: Sage Publications Ltd.
Gewicht: 381g
Seiten: 288
Sprache: Englisch
Sonstiges: Taschenbuch, 208x148x20 mm
Mehr von

Weitere Artikel von