Autor:
Marisa Herrera Postlewate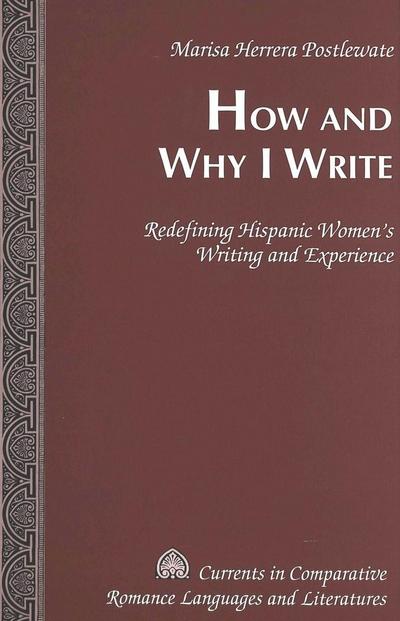 How and Why I Write
131, Currents in Comparative Romance Languages and Literatures
Redefining Hispanic Women's Writing and Experience
Exklusives Verkaufsrecht für: Gesamte Welt.
Recent Spanish and Latin American narratives - particularly those written by women - have engaged in a renewed identity search. Combining a broad range of genres associated with both fiction and nonfiction, the works of Isabel Allende, Julia Alvarez, Rosa Montero and Soledad Puértolas transgress traditional generic boundaries in order to recreate an identity. Furthermore, the authors place importance on both the writing technique and the story itself. By foregrounding the writing process the authors aim to reconstruct their professional identities as writers while narrating a story. The resulting works provide an insight into the alternatives available to women and writers in the wake of the millennium.
Autor: Marisa Herrera Postlewate
The Author: Marisa Herrera Postlewate is a native of Madrid, Spain. She received her Ph.D. in humanities with a concentration in modern and contemporary peninsular literature from The University of Texas at Arlington, where she is a Visiting Assistant Professor of Spanish. She has published articles on contemporary Spanish narrative in scholarly journals.
Autor: Marisa Herrera Postlewate
ISBN-13 :: 9780820468358
ISBN: 0820468355
Erscheinungsjahr: 17.10.2003
Verlag: Lang, Peter
Gewicht: 418g
Seiten: 193
Sprache: Englisch
Sonstiges: Buch, 236x156x17 mm
Mehr von

Weitere Artikel von