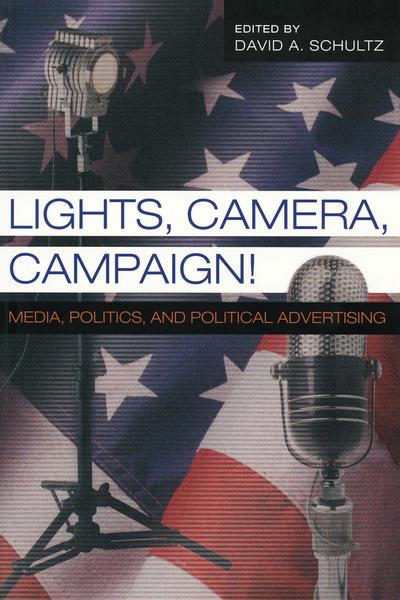 Lights, Camera, Campaign!
Media, Politics, and Political Advertising
Exklusives Verkaufsrecht für: Gesamte Welt.
Contents: David A. Schultz: Introduction: Selling Candidates and Soap - Arthur Sanders: Creating Effective Political Ads - Stephen K. Medvic: Developing «Paid Media» Strategies: Media Consultants and Political Advertising - Christopher J. Dolan: Two Cheers for Negative Ads - Geoffrey D. Peterson: Can a Voter in New York Make a Candidate Lose in California? An Experimental Test of the Release of Early Election Results on Voter Turnout - Christopher A. Cooper/H. Gibbs Knotts: Packaging the Governor: Television Advertising in the 2000 Elections - Brendan J. Doherty/Melissa Cully Anderson: Message Tailoring in Spanish: Courting Latino Voters in the 2000 Presidential Advertising Campaign - Amy E. Jasperson: The Perfect Storm of Politics: Media and Advertising during the 2002 U.S. Senate Campaign(s) in Minnesota - Timothy Vercellotti: Bowling with Erskine and Down Home with Dole: Re-packaging the Candidates in the 2002 Senate Race in North Carolina - David A. Schultz: From Saxophones to Schwarzenegger: Entertainment Politics on Late-night Television - David L. Schecter: Lights, Camera, and an Action Hero! Arnold Schwarzenegger and the Media Frenzy in the California Recall - Paul Nesbitt-Larking/Jonathan Rose: Political Advertising in Canada - David C. King/David Morehouse: Moving Voters in the 2000 Presidential Campaign: Local Visits, Local Media.
Television sets the tone for American political advertising through paid advertisements, the nightly news, and even late-night talk shows. This anthology explores the reality of political advertising in the media - the impact of negative ads, what constitutes a good ad, new strategies, ads for specific audiences (different ethnic groups) and campaigns (such as that of Arnold Schwarzenegger in California), advertising for ballot initiatives - and examines the role of the news in political campaigns as well as that of politics as entertainment on late-night television. This book will be useful in classes in media and politics, campaigns and elections, and politics and popular culture.
Editiert von: David A. Schultz
The Editor: David A. Schultz is Professor in the Graduate School of Public Administration and Management at Hamline University. Professor Schultz also holds appointments in the Hamline University Department of Criminal Justice and Forensic Science, as well as at the law schools of Hamline University, University of Minnesota, and University of St. Thomas. He is the author of 16 books and over 40 articles on American politics, with his most recent publications including Encyclopedia of Public Administration and Public Policy (2003); Social Capital: Critical Perspectives on Community and Bowling Alone (2002); Money, Politics, and Campaign Finance Reform Law in the States (2002); and It's Show Time! Media, Politics, and Popular Culture (2000).
Autor: David A. Schultz
ISBN-13 :: 9780820468310
ISBN: 0820468312
Erscheinungsjahr: 11.10.2004
Verlag: Lang, Peter
Gewicht: 492g
Seiten: 322
Sprache: Englisch
Sonstiges: Taschenbuch, 226x149x22 mm, num. ill. and tables
Mehr von

Weitere Artikel von