Autor:
Jennifer A. Vadeboncoeur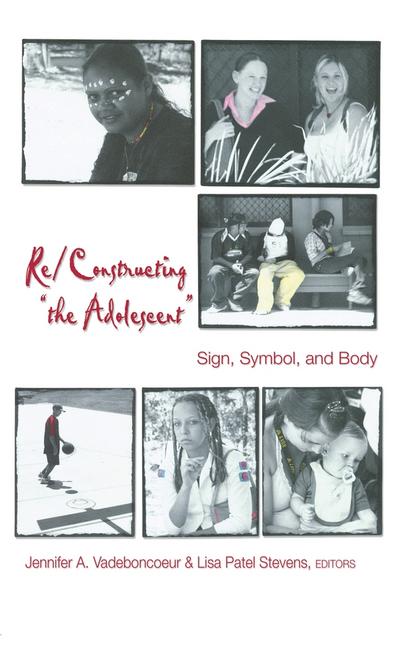 Re/Constructing 'the Adolescent'
33, Adolescent Cultures, School and Society
Sign, Symbol, and Body
Exklusives Verkaufsrecht für: Gesamte Welt.
Contents: William Ayers: Introduction - Jennifer A. Vadeboncoeur: Naturalised, Restricted, Packaged, and Sold: Reifying the Fictions of «Adolescent» and «Adolescence» - Johanna Wyn: What Is Happening to «Adolescence»? Growing Up in Changing Times - Lisa Patel Stevens: Youth, Adults, and Literacies: Texting Subjectivities Within and Outside Schooling - Jrene Rahm/Karen Tracy: Doing «Good» Discussion: Young People Engaged in Politically Messy, yet Compelling Conversation - Margaret Finders: «Gotta Be Worse»: Literacy, Schooling, and Adolescent Youth Offenders - Jennifer A. Vadeboncoeur: The Difference That Time and Space Make: An Analysis of Institutional and Narrative Landscapes - Judith V. Diamondstone: «Wishing and Doing»: Foreshadowing Life Choices in Writing - Lisa Hunter: Who Gets to Play? Kids, Bodies, and Schooled Subjectivities - Elizabeth Birr Moje/Caspar van Helden: Doing Popular Culture: Troubling Discourses about Youth - Mollie V. Blackburn: Talking Together for Change: Examining Positioning Between Teachers and Queer Youth - Lisa Patel Stevens: ReNaming Adolescence: Subjectivities in Complex Settings.
Young people today are frequently demonized by media images as well as by classroom reports. Dominant discourses, as ways of seeing and talking about youths, are constructed and managed by adults and offer young people a limited set of roles to play and options for engaging with society. Contributors to Re/Constructing the «Adolescent» problematize the «social construction of the adolescent» through a critique of the discourses that position youths and an examination of how youths enact, contest, and sometimes transform those same discourses. These studies, combining empirical research and semiotic analyses, offer a fresh perspective on young people in western societies today, at the level of everyday discourse, embodied through gesture and symbolic action, with material effects.
Editiert von: Jennifer A. Vadeboncoeur, Lisa Patel Stevens
The Editors: Jennifer A. Vadeboncoeur received her doctorate from the University of Colorado-Boulder and is currently Lecturer in Sociocultural Psychology at The University of Queensland in Australia. Her interests are primarily in applying sociocultural and critical lenses to the study of identity and, more specifically, the social construction of «at risk» identities for young people. Ethnography and critical discourse analysis frame her investigations into the everyday process of identity work. Lisa Patel Stevens received her doctorate from the University of Nevada, Las Vegas and she is currently Assistant Professor with the Lynch School of Education at Boston College. Her research interests include young people, multiliteracies, critical literacy, and policy studies. Her most recent work troubles the race, class, and gender classifications traditionally used to define diversity.
Autor: Jennifer A. Vadeboncoeur
ISBN-13 :: 9780820468037
ISBN: 0820468037
Erscheinungsjahr: 19.11.2004
Verlag: Lang, Peter
Gewicht: 446g
Seiten: 300
Sprache: Englisch
Sonstiges: Taschenbuch, 223x151x22 mm, 3 tables, 3 ill.
Mehr von

Weitere Artikel von