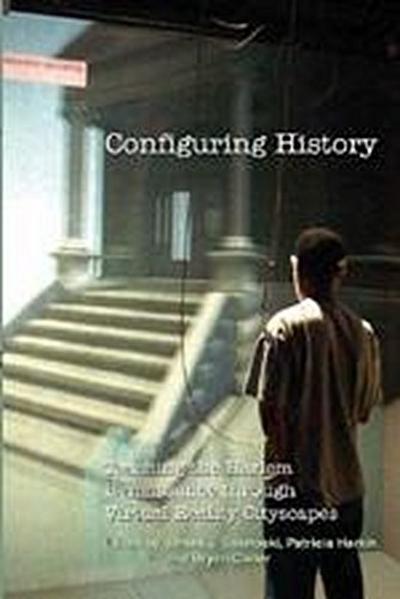 Configuring History
18, Digital Formations
Teaching the Harlem Renaissance through Virtual Reality Cityscapes
Exklusives Verkaufsrecht für: Gesamte Welt.
Contents: Tom DeFanti: Preface - James J. Sosnoski/Patricia Harkin/Bryan Carter: Virtual Experiences: Remediated Incarnations of Time and Space - Patricia Harkin: Understanding Virtual Experiences by Configuring Them - James J. Sosnoski: Configuring African-American Culture as Virtual Experiences of History - William Plummer: Why Engineers Are Interested in Projects Like Virtual Harlem - Bryan Carter: Virtual Harlem in the Beginning: Retrospective Reflections - James J. Sosnoski/Timothy Portlock: A Design for Narrating History in Virtual Reality Scenarios - Janice Tuck Lively: Writing a Narrative for Virtual Harlem: A Learning Experience - Georgia Tappan: «A Girl's Life» in Virtual Harlem - Veronica Watson: A Teacher's View of Virtual Harlem - Brenda Eatman Aghahowa: The Digital Divide and Langston Hughes: Bridging the Gap through the Virtual Harlem Project - Jim Pyfer: The Technologies Used in the Virtual Harlem Project - Andrew Johnson: Virtual Reality as Instructional Technology: The CAVE as Classroom Electronic Literacy - Kyoung Park/Andrew Johnson/Jason Leigh: Integrating Technology in the Distance Learning Classroom - Patricia Harkin: The VERITAS Studies and the Articulation of Cultural History - Bryan Carter: Jazzing Our Way from Harlem to Bronzeville to Paris: The VERITAS Studies - Marie-Madeleine Martinet/Liliane Gallet-Blanchard: Virtual Montmartre: Structure and Function - Chris White: Some Notes on Constructing Virtual Bronzeville - James J. Sosnoski: The Technological Design of Virtual Bronzeville - David Richardson: Digital Communication and Collaboration: Marratech - One Tool to Consider - Ken McAllister: In on the Job: Praxis, Critique, and the Evolution of Virtual Harlem - Steve Jones: Virtual Reality Technology and the Future of Education - James J. Sosnoski/Bryan Carter: A Proposal for Developing a Smart Collaborative Learning Network.
The multidisciplinary essays in Configuring History describe how teachers can use virtual reality technology to teach the Harlem Renaissance. Describing in detail the construction of Virtual Harlem, Bronzeville, and Montmartre - all important sites in African American cultural history - the essays delineate the technologies employed in the construction of these cityscapes and the learning theory - configuring history - that informs the project. The book provides a model of a collaborative learning network, linking classrooms at universities in the United States and in Europe, and demonstrates the importance of collaboration between the sciences and the humanities for the future development of instructional technologies.
Editiert von: James J. Sosnoski, Patricia Harkin, Bryan Carter
The Editors: James J. Sosnoski is the author of Token Professionals and Master Critics (1994) and Modern Skeletons in Postmodern Closets (1995) as well as various essays on instructional technology, computer-assisted pedagogy, and online collaboration. He is currently working on onfiguring: Learning to Understand Persons Unlike Us, a book on the role of virtual experiences in interpersonal communication. He earned an M.A. in English from Loyola University and a Ph.D. in English from Penn State. Patricia Harkin is the author of Acts of Reading (1999) and co-editor of Contending with Words: Composition and Rhetoric in a Postmodern Age (1991). Her other writings explore rhetorical history, theory, and pedagogy. She recently edited a special issue of Works and Days in celebration of the work of Richard Ohmann. She received her M.A. in English and her Ph.D. in English from the University of Virginia and Miami University of Ohio, respectively.
Bryan Carter teaches African American literature, with a primary focus on the Harlem Renaissance, at Central Missouri State University. He received his Ph.D. in English from the University of Missouri-Columbia and his M.A.Ed. from the University of Phoenix. The Virtual Harlem Cityscape was his brainchild.
Autor: James J. Sosnoski
ISBN-13 :: 9780820467849
ISBN: 0820467847
Erscheinungsjahr: 11.07.2006
Verlag: Lang, Peter
Gewicht: 308g
Seiten: 207
Sprache: Englisch
Sonstiges: Taschenbuch, 345x151x15 mm, Illustrations, map
Mehr von

Weitere Artikel von