Autor:
Peter Damian Akpunonu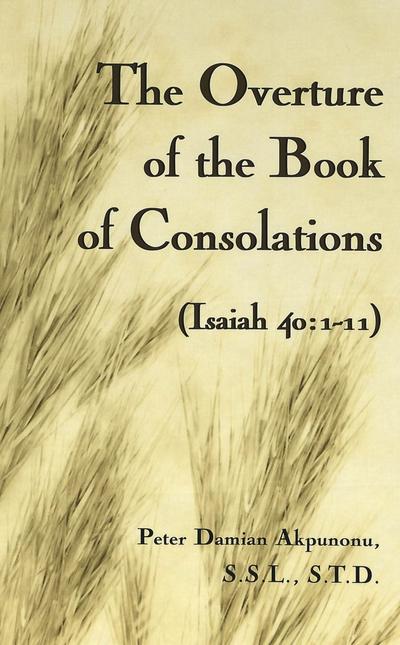 The Overture of the Book of Consolations
(Isaiah 40:1-11)
Exklusives Verkaufsrecht für: Gesamte Welt.
An inspiration to writers, musicians, and mystics, The Overture of the Book of Consolations summarizes and highlights all the major themes of Deutero-Isaiah. Its predominant theme is consolation - consolation of Israel after the destruction of Jerusalem and the temple and the depopulation of the kingdom of Judah. The Overture assures Judah that the past is forgiven and Yahweh is ushering in a New Creation, a future more glorious than the Exodus, the march through the desert, where Israel will once again be wedded to her husband: Yahweh, the Holy One of Israel.
Autor: Peter Damian Akpunonu
The Author: Peter Damian Akpunonu, S.S.L., S.T.D., is a priest of the Archdiocese of Onitsha, Nigeria. He taught for many years at Bigard Memorial Seminary, Enugu, Nigeria, where he was Rector from 1979 to 1989. He was also Rector of the Catholic Institute of West Africa, Port Harcourt, Nigeria, from 1989 to 1997. Presently, Dr. Akpunonu is Professor of Biblical Exegesis at the University of St. Mary of the Lake/Mundelein Seminary in Illinois. He is the author of many articles as well as The Vine, Israel, and the Church, Peter Lang, 2004.
Autor: Peter Damian Akpunonu
ISBN-13 :: 9780820467788
ISBN: 0820467782
Erscheinungsjahr: 26.02.2004
Verlag: Lang, Peter
Gewicht: 359g
Seiten: 166
Sprache: Englisch
Sonstiges: Buch, 236x156x15 mm
Mehr von

Weitere Artikel von
Mehr zum Thema