Autor:
Blake D. Pattridge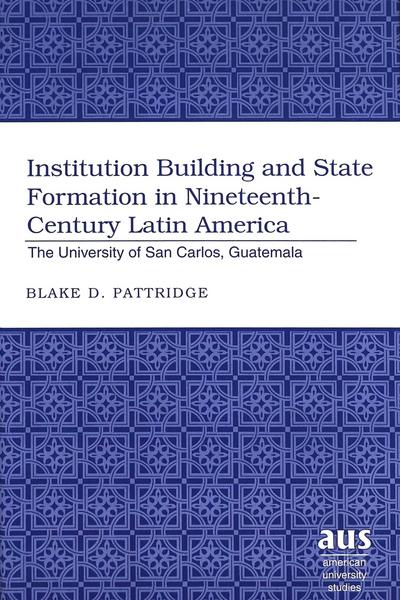 Institution Building and State Formation in Nineteenth-Century Latin America
28, American University Studies Series 22. Latin American Studies
The University of San Carlos, Guatemala
Exklusives Verkaufsrecht für: Gesamte Welt.
This book, based on years of research, including extensive work in Guatemalan archives, illuminates the social, political, and cultural life of Guatemala and Central America during the nineteenth century through the lens of the University of San Carlos, Guatemala, the period's only institution of higher learning in Guatemala and the most prestigious one on the Central American isthmus. The major issues addressed include the relationships between institution-building and state formation; between the university and the development of a national and regional identity; and between modernism and Catholicism (still a central tension in the region's culture), including the discursive process of constructing an ideology that fused elements from the Enlightenment and the tradition of scholasticism. This book contributes to a growing body of revisionism by challenging a flawed liberal historiographical narrative that demarcates changes during the period along the lines of political transitions and insisting that this era be viewed within a broader context of fluidity and continuity in the region's history.
Autor: Blake D. Pattridge
The Author: Blake D. Pattridge is Associate Professor of History at Babson College in Wellesley, Massachusetts. He received his Ph.D. in Latin American history from Tulane University in New Orleans, Lousiana. His work has been published widely in journals.
Autor: Blake D. Pattridge
ISBN-13 :: 9780820467757
ISBN: 0820467758
Erscheinungsjahr: 03.06.2004
Verlag: Lang, Peter
Gewicht: 569g
Seiten: 293
Sprache: Englisch
Sonstiges: Taschenbuch, 236x156x22 mm, 9 fig.
Mehr von

Weitere Artikel von