Autor:
Joanne Kilgour Dowdy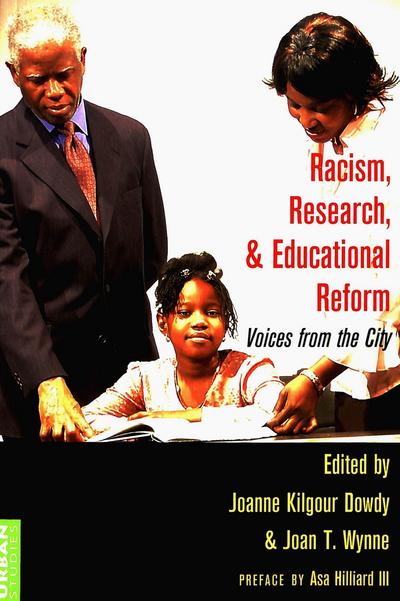 Racism, Research, and Educational Reform
246, Counterpoints: Studies in the Postmodern Theory of Education
Voices from the City
Exklusives Verkaufsrecht für: Gesamte Welt.
Contents: Asa Hilliard III: Preface - Interview with Lisa Delpit - Joan T. Wynne/F. Prescott-Adams: Interview with Folami Prescott-Adams - Betty L. Strickland: Leadership Is Everything: Investing in Professional Development - One Teacher's Journey with UACC: An Interview with Chinwe Obijiofor - Joan T. Wynne: The Elephant in the Classroom: Racism in School Reform - Barbara Meyers/Joanne Kilgour Dowdy/Patricia Paterson: Finding the Missing Voices: Perspectives of the Least Visible Families and Their Willingness and Capacity for School Involvement - Joanne Kilgour Dowdy (with Martha Abbott-Shim/Lynn Briggs/Florence Hardney-Hinds/Tracy Woodhall): Poetry in the Middle School Classroom.
Racism, Research, and Educational Reform adds to the knowledge base on educational reform, through individual, personal voices. Describing the complexities of multiple levels of engagement, it provides more accessible reading for teachers and the general public than most reform texts. This book also adds to the literature about multiple K-16 partnerships; collaborations between mainstream universities and Historically Black Colleges and Universities (HBCU); cross-district school system collaborations; the impact of racism on school reform efforts; communication problems in school collaborations; parent and teacher struggles for equal engagement; and issues of parental equity in school communities of diverse ethnic families.
Editiert von: Joanne Kilgour Dowdy, Joan T. Wynne
The Editors: Joanne Kilgour Dowdy is Associate Professor at Kent State University, Ohio. A graduate of Juilliard School in the theatre division, Dr. Dowdy continues to use her drama training to prepare teachers for the literacy classroom, and as a performer who facilitates writing development through interactive workshops. Her major research interests include documenting the experiences of Black women involved in education from adult basic literacy to higher education. She is the co-editor (with Lisa Delpit) of The Skin That We Speak: Thoughts on Language and Culture in the Classroom (2002), and the author of GED Stories: Black Women & Their Struggle for Social Equity (Lang, 2003). Joan T. Wynne, a former Professor at Morehouse College and Georgia State University is now a Professor at Florida State University where she is also Associate Director of the Center for Urban Education & Innovation.
Autor: Joanne Kilgour Dowdy
ISBN-13 :: 9780820467726
ISBN: 0820467723
Erscheinungsjahr: 27.06.2005
Verlag: Lang, Peter
Gewicht: 227g
Seiten: 134
Sprache: Englisch
Sonstiges: Taschenbuch, 228x151x10 mm
Mehr von

Weitere Artikel von
Mehr zum Thema