Autor:
Joseph C. Schnaubelt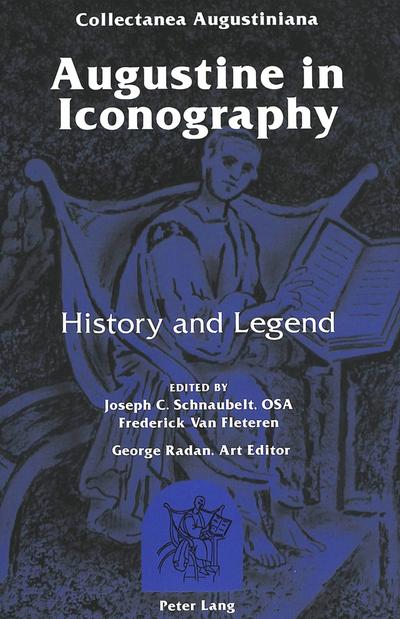 Augustine in Iconography
History and Legend
Exklusives Verkaufsrecht für: Gesamte Welt.
Contents: Frederick Van Fleteren/Joseph C. Schnaubelt: Prolegomena - Frederick Van Fleteren/Joseph C. Schnaubelt: Literary Sources for the Iconography of Saint Augustine - Joseph C. Schnaubelt/Frederick Van Fleteren (transl.): Joannes Stiltingh: The Account in the Acta Sanctorum of the Body of St. Augustine - Silvia Lusuardi Siena: Il complesso episcopale di Milano e il battesimo di Agostino: un punto di vista archeologico - George Radan: The Basilica Pacis of Hippo - Robert J. Rowland, Jr.: The Sojourn of the Body of St. Augustine in Sardinia - Benedict Hackett: San Pietro in Ciel d'oro, Pavia - Ennio Brunori: L'Eremo della Trinità «de Centumcellis» - Annamaria Ducci: L'Eremo di Rupecava nei Monti Pisani: Tracce per una definizione di «storia globale» - Benedict Hackett: The Augustinian Hermitage of Lecceto - Diane Cole Ahl: The Life of Saint Augustine in San Gimignano - Edmund Colledge: The Augustine Screen in Carlisle Cathedral - George T. Radan: The Lecceto Frescoes: The Augustinian Cycle - Mark W. Sullivan: Tito Troja: An Augustine Cycle in Philadelphia - Patricia Fortini Brown: Carpaccio's St. Augustine in His Study: A Portrait Within a Portrait - Meredith J. Gill: «Remember Me at the Altar of the Lord»: Saint Monica's Gift to Rome - Kenneth B. Steinhauser: Augustin moralisé: Some Observations on Florence, Laurenziana, Plut. 12, Cod. 17 - Louise Marshall: Augustinian Exegesis in the Old Testament Cycle of the Chiesa del Tau, Pistoia - Charles R. Morscheck: Augustinian Influences in the Iconography of the Certosa di Pavia - Margaret Flansburg: The South Chapel Fresco Cycle of Sant'Agostino, Fabriano - Margaret Flansburg: The Sacristy Frescoes of Sant'Agostino, Montefalco.
Augustine in Iconography: History and Legend has a threefold design: exploration of literary sources; reviews of pertinent archeology; and accounts of individual and cyclical illustrations. One hundred and thirty-two topics in the iconography of the bishop of ancient Hippo, both historical and legendary, are ascertained and analyzed; the historical and archeological background of Augustine's career, cult, and monastic influence are surveyed; four Augustinian cycles are examined; and various individual portraits of Augustine are studied.
Editiert von: Joseph C. Schnaubelt, Frederick Van Fleteren, George Radan, Joseph Reino
The Editors: Joseph C. Schnaubelt, OSA and Frederick Van Fleteren of the Augustinian Historical Institute at Villanova University are the general editors of Collectanea Augustiniana. In addition, they have edited several volumes on Anselm of Canterbury and have contributed various essays to these and other volumes.
Autor: Joseph C. Schnaubelt
ISBN-13 :: 9780820467665
ISBN: 0820467669
Erscheinungsjahr: 14.03.2003
Verlag: Lang, Peter
Gewicht: 1019g
Seiten: 750
Sprache: Englisch
Auflage Revised
Sonstiges: Taschenbuch, 229x151x45 mm, num. ill.
Mehr von

Weitere Artikel von