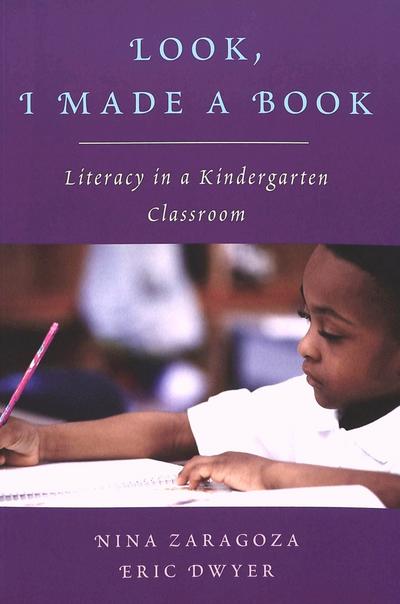 Look, I Made a Book
32, Rethinking Childhood
Literacy in a Kindergarten Classroom
Exklusives Verkaufsrecht für: Gesamte Welt.
What does it mean to have high expectations for five-year-old learners? In one of the author's classrooms, children are treated as authors, as world citizens, and as confident, responsible community and family contributors. Kindergartners publish their own stories and keep them on the same shelves as books from libraries and bookstores. In addition to books, these young students also produce their own plays, thank-you cards, and math problems. Zaragoza, Dwyer, and Brownie (the class mascot) invite new teachers along as they take one class of children through a month-by-month journey of authorship, literacy development, poetry, positive interaction, and imagination. This book is appropriate for both undergraduate and graduate students of education, early childhood, and teachers of English-language learners. It can also be of value to scholars of constructivist and/or critical theory.
Autor: Nina Zaragoza, Eric Dwyer
The Authors: Nina Zaragoza received her Ph.D. in reading and learning disabilities from the University of Miami in Florida. She has taught at Florida International University, in the public schools of Miami-Dade County, Florida, and in Vladimir, Russia. She currently teaches in a New York City elementary public school. Eric Dwyer is Assistant Professor for Foreign Language Education at Florida International University. He received his Ph.D. in foreign language education from The University of Texas at Austin. He has taught in numerous countries, has served on the Board of Directors for Teachers of English to Speakers of Other Languages (TESOL), Inc., and is a contributing author to the TESOL/NCATE P-12 Teacher Education Standards.
Autor: Nina Zaragoza
ISBN-13 :: 9780820467603
ISBN: 082046760X
Erscheinungsjahr: 24.02.2005
Verlag: Lang, Peter
Gewicht: 355g
Seiten: 239
Sprache: Englisch
Sonstiges: Taschenbuch, 228x151x17 mm, num. ill. and tables
Mehr von

Weitere Artikel von