Autor:
Kimberly A. McCabe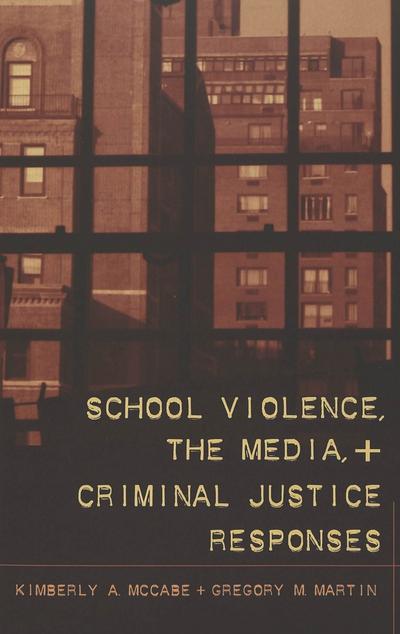 School Violence, the Media, and Criminal Justice Responses
Exklusives Verkaufsrecht für: Gesamte Welt.
The problem remains: students in schools across the United States are not only bullying each other but are killing each other. This book provides a foundation for the study of school violence, beginning with an analysis of the shootings at Columbine and going on to discuss all forms of aggression in schools. The authors provide a history of school violence in America, theories to explain bullying, and teachers' perceptions of this violence - and suggest ways that teachers and other school personnel can predict, control, and prevent outbursts of violence. Also included are discussions on the effects of the media on school violence, as well as the criminal justice system's responses. This book is an excellent resource for courses in criminal justice, teacher education, and all youth workers and counselors in schools and the community.
Autor: Kimberly A. McCabe, Gregory M. Martin
The Authors: Kimberly A. McCabe is Associate Professor of Sociology at Lynchburg College in Lynchburg, Virginia. Her degrees are in math (B.A.), criminal justice (M.C.J.), and sociology (Ph.D.). Along with multiple book chapters and journal articles, she is also the author of Child Abuse and the Criminal Justice System (Peter Lang, 2003). Gregory M. Martin is Assistant Professor of Learning and Human Development at Lynchburg College in Lynchburg, Virginia. His degrees are in the areas of social sciences and education (B.A.), curriculum and instruction (M.Ed.), and curriculum instruction and school leadership (Ed.D). Dr. Martin has fifteen years of classroom experience working with children from elementary through high school. His research interests include school violence and classroom management.
Autor: Kimberly A. McCabe
ISBN-13 :: 9780820467566
ISBN: 0820467561
Erscheinungsjahr: 19.11.2004
Verlag: Lang, Peter
Gewicht: 195g
Seiten: 122
Sprache: Englisch
Sonstiges: Taschenbuch, 228x151x10 mm
Mehr von

Weitere Artikel von