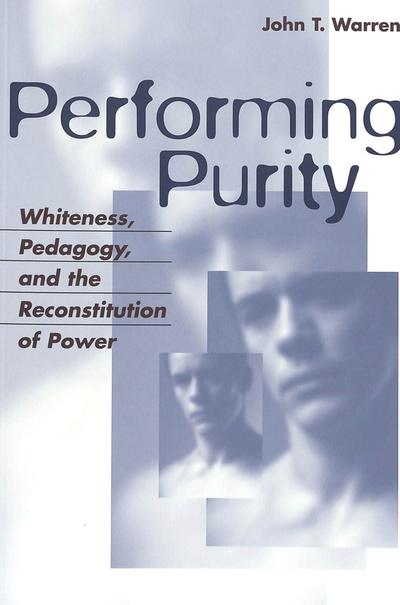 Performing Purity
6, Critical Intercultural Communication Studies
Whiteness, Pedagogy, and the Reconstitution of Power
Exklusives Verkaufsrecht für: Gesamte Welt.
Based on a two-year critical ethnography, Performing Purity: Whiteness, Pedagogy, and the Reconstitution of Power demonstrates the potential of a performative conceptualization of whiteness - a way of seeing whiteness in production, in the process of reiteration. This book builds on prior studies by searching for the repetitions of whiteness in our daily communication. The move to the performative is an explicit detailing of whiteness in and through the repetitious acts that work to reconstitute whiteness as a communicative ideal. Performing Purity creates a critical space of dialogue, shifting the conversation to how we make race, as a construct, matter.
Autor: John T. Warren
The Author: John T. Warren received his Ph.D. in Speech Communication and Performance Studies from Southern Illinois University, Carbondale. He is Assistant Professor of Communication Studies in the School of Communication Studies at Bowling Green State University in Ohio. He has published essays in several education and communication studies journals, including Educational Theory, Communication Education, and Text and Performance Quarterly. Dr. Warren is currently working on a new project investigating critical performative pedagogy.
Autor: John T. Warren
ISBN-13 :: 9780820467542
ISBN: 0820467545
Erscheinungsjahr: 04.08.2003
Verlag: Lang, Peter
Gewicht: 276g
Seiten: 176
Sprache: Englisch
Sonstiges: Taschenbuch, 226x149x12 mm
Mehr von

Weitere Artikel von
Mehr zum Thema