Autor:
George J. Sefa Dei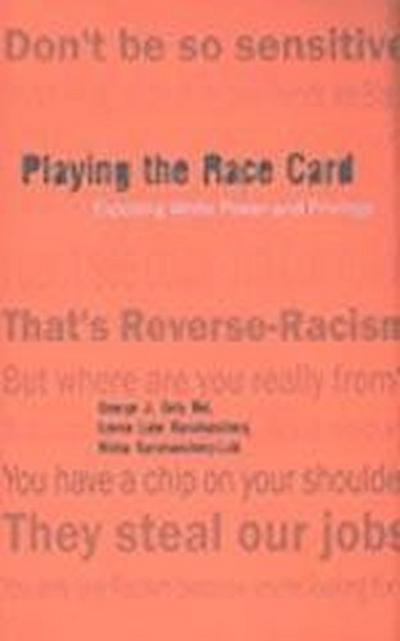 Playing the Race Card
244, Counterpoints: Studies in the Postmodern Theory of Education
Exposing White Power and Privilege
Exklusives Verkaufsrecht für: Gesamte Welt.
Playing the Race Card reflects and engages the dynamic nature of racialized experience in Western contexts. It examines today's anti-racism project to discern how it might benefit from integrating strategies that work toward the development of critical consciousness as its main goal. So that the privileged and the oppressed alike may reflexively examine their own subject positions, this book identifies and addresses the need to develop a working model for anti-racism strategies. Given the need to understand and move beyond static conceptions of race and racism, Playing the Race Card offers both a critique of mainstream/privileged perceptions of racial oppression, as well as a direction forward within a more «organic» approach to social reform.
Autor: George J. Sefa Dei, Nisha Karumanchery-Luik
The Authors: George J. Sefa Dei is Professor and Chair of the Department of Sociology and Equity Studies at the Ontario Institute for Studies in Education of the University of Toronto. He has published extensively in the areas of race, class, and gender.
Leeno Luke Karumanchery is co-author of Removing the Margins: The Challenges and Possibilities of Inclusive Schooling and is Chair of the Canadian Sociology and Anthropology Association's sub-committee on anti-racism.
Nisha Karumanchery-Luik received her Ph.D. from the University of Toronto. She teaches Women's Studies and is on the Editorial Board of Directors for Resources for Feminist Research/Documentation Sur La Recherche Feministe.
Autor: George J. Sefa Dei
ISBN-13 :: 9780820467528
ISBN: 0820467529
Erscheinungsjahr: 27.05.2005
Verlag: Lang, Peter
Gewicht: 338g
Seiten: 224
Sprache: Englisch
Sonstiges: Taschenbuch, 228x151x15 mm
Mehr von

Weitere Artikel von
Mehr zum Thema