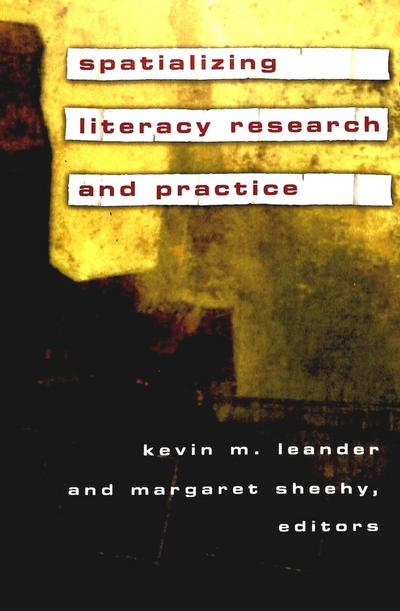 Spatializing Literacy Research and Practice
15, New Literacies and Digital Epistemologies
Exklusives Verkaufsrecht für: Gesamte Welt.
Contents: Edward W. Soja: Preface - Margaret Sheehy/Kevin M. Leander: Introduction - Elizabeth Birr Moje: Powerful Spaces: Tracing the Out-of-School Literacy Spaces of Latino/a Youth - Elizabeth Hirst: Diverse Social Contexts of a Second-Language Classroom and the Construction of Identity - Anita Wilson: Four Days and a Breakfast: Time, Space, and Literacy/ies in the Prison Community - Margaret Sheehy: Between a Thick and a Thin Place: Changing Literacy Practices - Kevin M. Leander: Reading the Spatial Histories of Positioning in a Classroom Literacy Event - Margaret Carmody Hagood: A Rhizomatic Cartography of Adolescents, Popular Culture, and Constructions of Self - George Kamberelis: The Rhizome and the Pack: Liminal Literacy Formations with Political Teeth.
Current research on literacy often conceives space as a container within which social practice occurs. In sharp contrast, this edited collection argues that literary practice and social space are produced in relation to one another. Contributors to this collection consider how a spacial analysis provides entirely new information for the interpretation of literary practice. Traversing geography and literacy studies, drawing on Bakhtin, Deleuze and Guattari, Lefebvre, Soja, and a range of other theorists, contributors analyze space/literacy relations in diverse settings, including classrooms, prisons, streets, institutional programs, homes, and the popular media.
Editiert von: Kevin M. Leander, Margaret Sheehy
The Editors: Kevin M. Leander is Assistant Professor of Language and Literacy Education at Peabody College, Vanderbilt University. He received his Ph.D. in education from the University of Illinois, Urbana-Champaign. His research focuses on understanding literacy as a spatial-social practice, on multimodality, and on digital literacies.
Margaret Sheehy is Assistant Professor of Education in the Department of Reading at the University at Albany. She received her Ph.D. in language, literacy, and culture from Ohio State University. Dr. Sheehy is politically committed to public education and researches the literacy practices of teachers and adolescents in middle schools.
Autor: Kevin M. Leander
ISBN-13 :: 9780820467498
ISBN: 0820467499
Erscheinungsjahr: 19.07.2004
Verlag: Lang, Peter
Gewicht: 325g
Seiten: 209
Sprache: Englisch
Auflage New
Sonstiges: Taschenbuch, 225x151x15 mm, illustrations