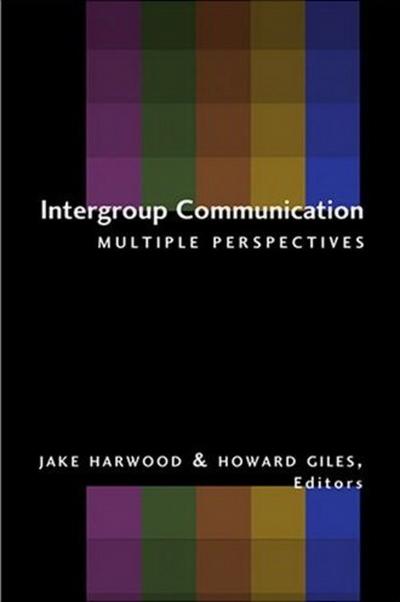 Intergroup Communication
2, Language as Social Action
Multiple Perspectives
Exklusives Verkaufsrecht für: Gesamte Welt.
Contents: Jake Harwood/Howard Giles/Nicholas A. Palomares: Intergroup Theory and Communication Processes - Michael L. Hecht/Ronald L. Jackson II/Margaret J. Pitts: Culture: Intersections of Intergroup and Identity Theories - Christopher Hajek/Jessica R. Abrams/Tamar Murachver: Female, Straight, Male, Gay, and Worlds Betwixt and Between: An Intergroup Approach to Sexual and Gender Identities - Itesh Sachdev/Richard Y. Bourhis: Multilingual Communication and Social Identification - Angie Williams/Peter Garrett: Intergroup Perspectives on Aging and Intergenerational Communication - Ellen B. Ryan/Selina Bajorek/Amanda Beaman/Ann P. Anas: «I Just Want You to Know That 'Them' Is Me»: Intergroup Perspectives on Communication and Disability - Michael A. Hogg/R. Scott Tindale: Social Identity, Influence, and Communication in Small Groups - Neil Paulsen/Phil Graham/Elizabeth Jones/Victor J. Callan/Cindy Gallois: Organizations as Intergroup Contexts: Communication, Discourse, and Identification - Jake Harwood/Abhik Roy: Social Identity Theory and Mass Communication Research - Tom Postmes/Nancy Baym: Intergroup Dimensions of the Internet - Scott A. Reid/Howard Giles/Jake Harwood: A Self-Categorization Perspective on Communication and Intergroup Relations.
This collection of original essays by leading international scholars provides a comprehensive introduction to the study of intergroup communication. In Intergroup Communication: Multiple Perspectives, contributors address the key themes in intergroup communication and describe the way communication processes relate to different cultures, gender and sexuality, disability, linguistic issues, and age groups. The chapters examine the important role that intergroup processes play in interpersonal, small group, organizational, and mass communication. This book also considers the impact of new technologies on communication. Intergroup Communication will be invaluable for scholars in the areas of communication and intergroup social psychology and is suited for upper-division undergraduate and introductory graduate courses in those areas.
Editiert von: Jake Harwood, Howard Giles
The Editors: Jake Harwood is Associate Professor of Communication at the University of Arizona. He received his Ph.D. in communication from the University of California, Santa Barbara. Dr. Harwood has published more than fifty academic articles concerning intergroup communication.
Howard Giles is Professor of Communication at the University of California, Santa Barbara. He received his Ph.D. and D.Sc. in psychology from the University of Bristol, England. Dr. Giles has received numerous awards for his work in different areas of intergroup communication.
Autor: Jake Harwood
ISBN-13 :: 9780820467399
ISBN: 0820467391
Erscheinungsjahr: 24.08.2006
Verlag: Lang, Peter
Gewicht: 388g
Seiten: 277
Sprache: Englisch
Auflage 08000, new edition
Sonstiges: Taschenbuch, 230x154x20 mm, 3 fig.
Mehr von

Weitere Artikel von
Mehr zum Thema