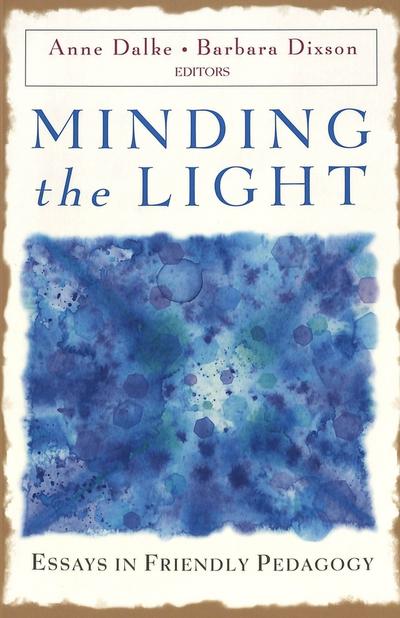 Minding the Light
Essays in Friendly Pedagogy
Exklusives Verkaufsrecht für: Gesamte Welt.
Contents: Anne Dalke/Susan McNaught: Introduction. «Minding the Light»: A Range of Quaker Pedagogies - Steve Smith: The Spiritual Roots of Quaker Pedagogy - Mary Watkins: Liberating Soul Sparks: Psyche, Classroom, and Community - Mike Heller: «Wait to Be Gathered»: The Classroom as Spiritual Place - Richard Johnson: A Gathered Presence: Creating a Community of Conscience in the Composition Classroom - Barbara Mallonee: The AmerIcan Essay: Where Spirit and Silence Meet - Barbara Dixson: Teaching from the Spiritual Center - Stanford J. Searl, Jr.: Teaching as Listening: Silence as Heart Knowledge - Susan McNaught: «Live Up to the Light Thou Hast»: The Adult Learner.
This book presents a series of thoughtful and revealing reflections - excerpts from the inner and outer lives of college teachers - from which emerges a common concern for the interactive and spiritual dimensions of the educational process, and a rich sense of the light which can and should illuminate it. Informed either by personal commitment to Quakerism, or by individual work within Quaker institutions, the contributors offer perspectives that are important for teachers, parents, and readers generally interested in the classroom experience as a process of growth and exploration. Minding the Light provides an inspiring outline of «friendly pedagogy», which deeply respects individual uniqueness while awakening learners to their active involvements with larger communities.
Editiert von: Anne Dalke, Barbara Dixson
The Editors: Anne Dalke is a member of the English Department and Coordinator of the Feminist and Gender Studies Program at Bryn Mawr College, Pennsylvania. She is the author of Teaching to Learn/Learning to Teach: Meditations on the Classroom (Peter Lang, 2002) and is a member of Radnor Monthly Meeting of the Society of Friends. Barbara Dixson teaches English and English teachers at the University of Wisconsin-Stevens Point. She is a Friend by convincement and a member of Stevens Point Friends Meeting.
Autor: Anne Dalke
ISBN-13 :: 9780820463575
ISBN: 0820463574
Erscheinungsjahr: 19.07.2004
Verlag: Lang, Peter
Gewicht: 310g
Seiten: 209
Sprache: Englisch
Sonstiges: Taschenbuch, 228x153x15 mm
Mehr von

Weitere Artikel von
Mehr zum Thema