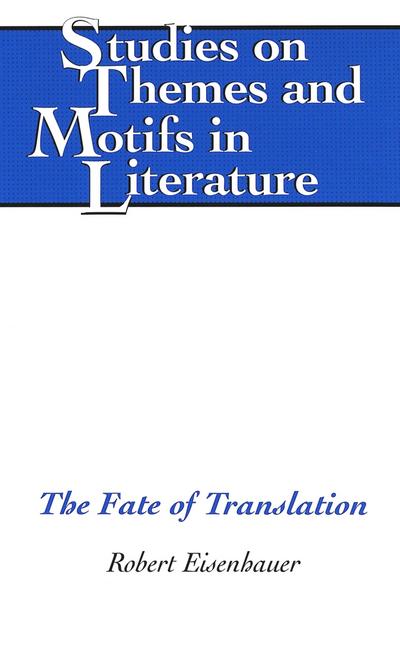 The Fate of Translation
82, Studies on Themes and Motifs in Literature
Exklusives Verkaufsrecht für: Gesamte Welt.
With two essays devoted to Wordsworth, The Fate of Translation reframes the discussion of Hesperian aesthetics initiated in Robert Eisenhauer's Mythic Paradigms, suggesting how the question of translation poses itself at the crossing of textual high- and low-roads: on the one hand, in the critical and scholarly debate concerning the relevance of Goethe's «Der Wandrer» (in the English version by William Taylor) to the primal/primary scene of autobiography and, on the other, in the reprojection of supernatural agency (numen) in the context of the Literature of Power. Confrontational deixis and a hermeneutic counterturn energize Wordsworth's self-assertive resensing of antiquity and modernity via satire, pastoral, and the sonnet. The third essay, ranging from Pindarizing texts by Cowley, Goethe, and Hölderlin to the films of Matthew Barney, shifts the focus to mimetic enthusiasms among translators and replicators of the «full fan-experience.» John Barth's intriguing analogy between metafiction and fractal geometry serves as the catalyst for a reading of texts by Thomas Browne and Friedrich Schlegel, a major painting by Philipp Otto Runge, and The Arabian Nights as malignly received by Poe. The arabesque and grotesque are seen as engaged in a problematics of passion at the utopian end of art, a consensualist paradigm akin to the Dionysian liberation of the subject/player/fan in baseball - one whose field of implication includes Nietzsche and contemporary novelists. Eisenhauer reads Padgett Powell's Edisto as a declamatory mini-epic divergent in its muthos from the tradition of the «American hieroglyphic». Edisto's fictive reinvention of the South suggests a revisiting of the Literature of Power as priviledged, emancipative counterfacticity of «other truth» congruent with the fictive worlds of Cable, Faulkner, and Günther Grass.
Autor: Robert Eisenhauer
The Author: Robert Eisenhauer received his Ph.D. in comparative literature and German from The Johns Hopkins University. He is the author of Mythology of Souls (Peter Lang, 1987), Mythic Paradigms in Literature, Philosophy, and the Arts (Lang, 2004), Paradox and Perspicacity (Lang, 2005), and Parables of Disfiguration (Lang, 2005), as well as articles, reviews, and notes in Paideuma, The Lessing Yearbook, Glyph, and MLN. He is the author of The Maya Railroad (1995), Sidereal Daylight (1997), and Hellas Borders (1999), poetic texts based on travels in the United States, Mexico, and Europe, and Winterrules (2005).
Autor: Robert Eisenhauer
ISBN-13 :: 9780820463438
ISBN: 0820463434
Erscheinungsjahr: 08.11.2005
Verlag: Lang, Peter
Gewicht: 615g
Seiten: 258
Sprache: Englisch
Sonstiges: Buch, 236x158x22 mm, 5 ill.
Mehr von

Weitere Artikel von