Autor:
Irene Maria F. Blayer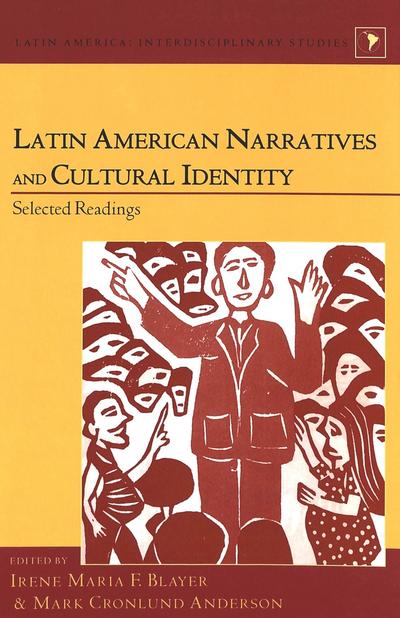 Latin American Narratives and Cultural Identity
Selected Readings
Exklusives Verkaufsrecht für: Gesamte Welt.
Contents: Irene Maria F. Blayer/Mark Cronlund Anderson: Introduction - Mario J. Valdés: Story-Telling and Cultural Identity in Latin America - Daniel F. Chamberlain: The Mexican Corrido: Identity Configurations, Time, and Truth Claims - Martha J. Nandorfy: Two Radical Storytellers for the Young (and) Old - Stephen Henighan: History after History's End: Cultural Reconstruction in Margarita, está linda la mar - Yvonne S. Unnold: Narratives of Trauma from the Southern Cone - Elizabeth Monasterios: Rethinking Transculturation and Hybridity: An Andean Perspective - Elena M. De Costa: Metaphoric Narration in Mesoamerican Tradition - Jerome Branche: The Dreadren and the Message: Of Martyrdom and Mythopoiesis in Caribbean Literature - Diana Ramassamy: Créole, culture et oralité aux Antilles françaises - Cristina Santos: Clarice Lispector's A Hora da Estrela: Through the Lens of Suzana Amaral - Marie Chompré Sautron: Métamorphose volatile de l'âme du guerrier: une croyance mythique dans le Mexique ancien - Vanderci De Andrade Aguilera: O baetatá existe realmente? - Laura Llull: El mito de la conspiración en el imaginario político de los periódicos de Bahía Blanca (Provincia de Buenos Aires) durante el primer gobierno radical (1916-1922) - Maria L. Figueredo: The Legend of La Llorona: Excavating and (Re)Interpreting the Archetype of the Creative/Fertile Feminine Force.
This book presents a selection of fourteen provocative and unique essays bringing together the views of exciting new scholarship on narratives and cultural identity in Latin America. In so doing, it balances theory, methodology, and description. The offerings in this volume deliver a clarion mix of original voices and cutting-edge approaches to the exploration of the topics, which reflect diverse perspectives on Latin American culture and literature. The contributions feature analyses of Latin American oral tradition, cultural identity, memory construction, storytelling, literary truth-claims, myth, autobiography, cultural policy and history, folk art and cinema.
Editiert von: Irene Maria F. Blayer, Mark Cronlund Anderson
The Editors: Irene Maria F. Blayer is Associate Professor in the Department of Modern Languages, Literatures, and Cultures at Brock University, Ontario, Canada. She received her Ph.D. in linguistics from the University of Toronto. She has published in the areas of Portuguese and Spanish dialectology as well as in Romance linguistics within a historical context. Her current research interests include oral narrative tradition and concepts of identity and culture. Mark Cronlund Anderson is Associate Professor of History at the University of Regina and Coordinator of Interdisciplinary Studies at Luther College, University of Regina, Saskatchewan, Canada. He is the author of Pancho Villa's Revolution by Headlines as well as of a forthcoming study, Frontier Hollywood, Carnal Westerns and American-Style Imperialism that explores how Hollywood frontier films have served as a vehicle for the mythical promotion of Manifest Destiny.
Autor: Irene Maria F. Blayer
ISBN-13 :: 9780820463209
ISBN: 0820463205
Erscheinungsjahr: 18.11.2003
Verlag: Lang, Peter
Gewicht: 500g
Seiten: 258
Sprache: Englisch
Sonstiges: Buch, 238x159x20 mm, 3 fig., 2 maps