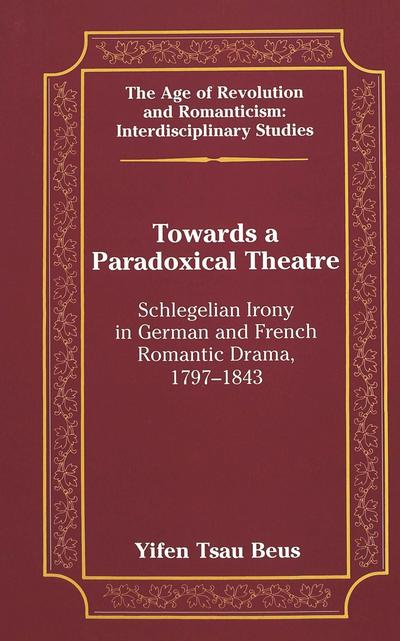 Towards a Paradoxical Theatre
Schlegelian Irony in German and French Romantic Drama, 1797-1843
Exklusives Verkaufsrecht für: Gesamte Welt.
This book investigates the impact of Friedrich Schlegel's concept of irony on the formation of the dramatic theories and theatrical practices of German and French dramatists of the early Romantic period by focusing on two aspects of Schlegel's redefinition of irony: the harmonious mixture of buffoonery and seriousness and the concept of self-reflectivity. According to Schlegel, Romantic irony transforms poetry (in its broadest sense; that is, Poesie) into witty, self-skeptical, and thus, meta-poetic works. As German and French playwrights and theorists attempted to realize new Romantic ideals in poetry and theatre, they paved the way for modern literary discourse and many artistic movements. This study of Schlegelian irony opens an essential - and often overlooked - perspective on the major texts of German and French Romantic drama while establishing clear guidelines for defining Romantic drama and its revolutionary effects on the theatre and the other arts.
Autor: Yifen Tsau Beus
The Author: Yifen Tsau Beus received her Ph.D. in comparative literature from Indiana University, Bloomington, and is currently Assistant Professor in the International Cultural Studies Program at Brigham Young University, Hawaii. Her research interests include Romanticism, theatre and film, and postcolonial studies.
Autor: Yifen Tsau Beus
ISBN-13 :: 9780820462219
ISBN: 0820462217
Erscheinungsjahr: 06.02.2003
Verlag: Lang, Peter
Gewicht: 373g
Seiten: 170
Sprache: Englisch
Sonstiges: Buch, 236x156x17 mm, 1 ill.
Mehr von

Weitere Artikel von