Autor:
Hyun Chul Paul Kim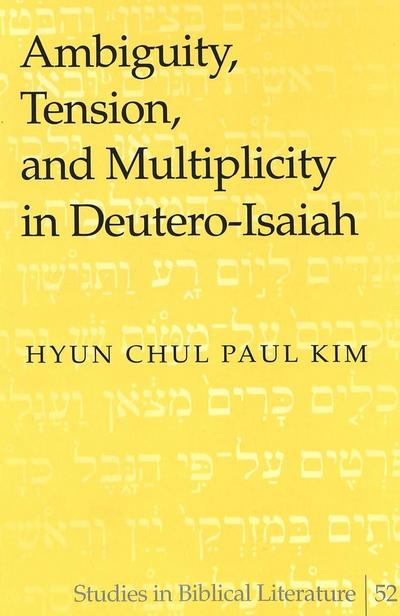 Ambiguity, Tension, and Multiplicity in Deutero-Isaiah
52, Studies in Biblical Literature
Exklusives Verkaufsrecht für: Gesamte Welt.
Does Isaiah 40-55 convey a unified message on the relationship between Israel and the nations? This book argues that Isaiah 40-55 contains the texts and concepts of both universalism and particularism. Examining four select texts (42:1-13; 44:24-45:8; 49:22-26; 51:1-8) with special attention given to their textuality, intertextuality, and infratextuality (conceptuality), Hyun Chul Paul Kim suggests the existence of both unified conceptuality and diverse signifiers. Through synchronic and diachronic analyses, this work uncovers the intentional ambiguity, tension, and multiplicity on the concept of the servant's identity as well as other key concepts, how these diverse concepts can be read with respect to authorial intention, and what the implications are for the ongoing debates on the unity and diversity of the book of Isaiah.
Autor: Hyun Chul Paul Kim
The Author: Hyun Chul Paul Kim is Assistant professor of Hebrew Bible at Methodist Theological School in Ohio. He received his Ph.D. in Hebrew Bible from Claremont Graduate University in California.
Autor: Hyun Chul Paul Kim
ISBN-13 :: 9780820462134
ISBN: 0820462136
Erscheinungsjahr: 15.09.2003
Verlag: Lang, Peter
Gewicht: 547g
Seiten: 289
Sprache: Englisch
Sonstiges: Buch, 236x159x22 mm
Mehr von

Weitere Artikel von
Mehr zum Thema