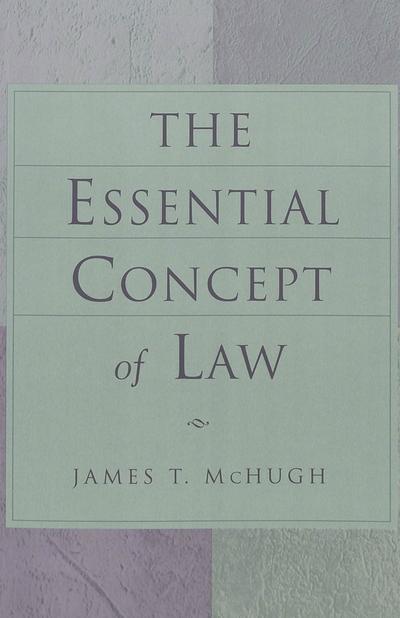 The Essential Concept of Law
33, Teaching Texts in Law and Politics
Exklusives Verkaufsrecht für: Gesamte Welt.
The Essential Concept of Law provides an overview of law from both a theoretical and practical perspective. It begins with the most fundamental categories of legal ideas and heritages and then proceeds to explore increasingly narrow and specialized understandings, including the relationship of law to Western ideologies, the concept of tribal law, the relationship of law and religion, the common law and civil law systems, and an explanation of essential legal categories, such as property, contract, punishment, and rights and liberties. This book also explores other, equally fundamental subjects that give law its overall meaning, structure, and purpose, especially within its broader political, philosophical, and social context.
Autor: James T. McHugh
The Author: James T. McHugh is Associate Professor of Political Science and Chair of the Legal Studies Program at Roosevelt University, Chicago, and Adjunct Professor of the John Marshall Law School, Chicago. He has written and taught in the areas of public law, political theory, legal philosophy, and Canadian politics. He has studied at the University of Vermont, the University of Edinburgh, and Queen's University, Kingston, Ontario, where he received his Ph.D. in political science.
Autor: James T. McHugh
ISBN-13 :: 9780820461809
ISBN: 0820461806
Erscheinungsjahr: 07.10.2002
Verlag: Lang, Peter
Gewicht: 248g
Seiten: 161
Sprache: Englisch
Sonstiges: Taschenbuch, 228x154x12 mm