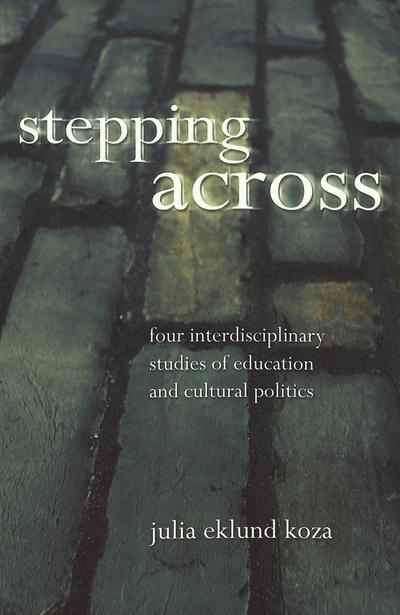 Stepping Across
6, Intersections in Communications and Culture
Four Interdisciplinary Studies of Education and Cultural Politics
Exklusives Verkaufsrecht für: Gesamte Welt.
Stepping Across: Four Interdisciplinary Studies of Education and Cultural Politics is a collection of four studies of education, privilege, and power - each of which explores relationships between formal schooling and larger cultural contexts. Representing some of Koza's most recent thinking, the studies examine interrelated constructs of race, gender, and social class as they materialize in local and specific settings. «No Hero of Mine: Disney, Popular Culture, and Education» (2001); «Rap Music: The Cultural Politics of Official Representation» (1994); «Unhappy Happy Endings: Cultural Politics in the Broadway Musical Hit Once on This Island» (1997, revised 2001); «To Shave or Not to Shave: The Hair Removal Imperative and Its Implications for Teachers and Teaching» (2001) comprise the collection.
Autor: Julia Eklund Koza
The Author: Julia Eklund Koza is Professor of Curriculum and Instruction and of Music at the University of Wisconsin-Madison. She has published widely in scholarly journals and is the author of chapters in several edited collections.
Autor: Julia Eklund Koza
ISBN-13 :: 9780820461656
ISBN: 0820461652
Erscheinungsjahr: 02.04.2003
Verlag: Lang, Peter
Gewicht: 273g
Seiten: 176
Sprache: Englisch
Sonstiges: Taschenbuch, 228x153x12 mm
Mehr von

Weitere Artikel von
Mehr zum Thema