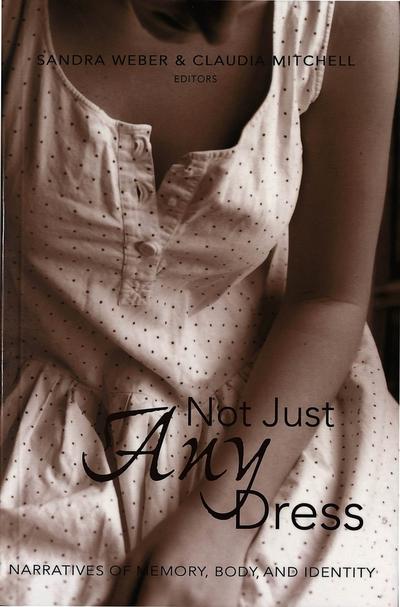 Not Just Any Dress
220, Counterpoints: Studies in the Postmodern Theory of Education
Narratives of Memory, Body, and Identity
Exklusives Verkaufsrecht für: Gesamte Welt.
Contents: Sandra Weber/Claudia Mitchell: «Dress Stories» - Lorri Neilson Glenn: That Saturday night all her clothes fell apart and broke into song - Carol Mavor: Collecting Loss: Photographs, Dresses, «Paperies» - Kathleen O'Reilly Scanlon: Communion Dress Violations - Catherine Derry: «I'll Never Find a Dress»: Shopping for the Prom - Sandra Weber: No Red Shoes - Sandra Weber: Boxed-in by My School Uniform - Lyse Lemieux: Tunique Desires - Candis Steenbergen: In Front of the Closet: (Ad)dressing the Academic - Claudia Mitchell: Was It Something I Wore? - Madeleine R. Grumet: My Green Robe: Scholae Personae - Sandra Weber: Curse You Descartes! My Academic Gown - Lorri Neilson Glenn: Basic Black: A Wardrobe Primer for Seasoned Academic Women - Annette Kuhn: A Credit to Her Mother - Jennifer Musial: Fashioning Pregnancy: The Maternity Dress in Clothing Catalogues - Ardra L. Cole: The Christmas Doll - Gary Knowles: Constraining Mother: Corsetry, Control, and Comfort - Celeste Snowber: (Wo)man Time and M(other) Sins - Claudia Mitchell: Bridesmaid dress: Thick Description - Kathryn Church: Try This One On for Size: Poetic Notes from Wedding Dress Research - Jo Visser: Nailing It: My Wedding Dress - Xiao Lan Curdt-Christiansen: Made in China - Roksana Bahramitash: Revealing Veiling and Unveiling - Joan Reider: Scarf Signatures - Liz Ralfe: Love Affair with My Isishweshwe - Charlotte Hussey: Fashion Statement - Lorri Neilson Glenn: At the Ugly Ducklings Anonymous Meeting - Celeste Snowber: Writing Bare-breasted - Ilana Abramovitch: Not Just Any Little Black Dress - Claudia Mitchell: Dressing Death: Elsie Never Wore a Prom Dress - Kathy Sands: Fashion for the Soul - Sandra Weber/Claudia Mitchell: Theorizing Dress Stories.
If dresses could talk, what stories might they tell? This compelling collection of short stories, essays, and poems features dress as the structural grounding for autobiographical accounts from women's lives in Western society. Often personal in nature, these «dress stories» point unfailingly to matters of social and cultural import. Some of the dresses described inhabit the popular imagination: the little girl dress, the communion dress, the school uniform, the prom dress, the wedding dress, the little black dress, and the burial dress. Beyond the semiotic, tactile, and visual aspects of the dresses themselves, the narratives delve into what dresses reveal about fundamental aspects of human experience: identity, embodiment, relationship, and mortality. Bought or made, then worn, forgotten, remembered, re-constructed, and re-interpreted, each dress offers a new glimpse into how we construct meaning in our daily lives, and how dresses serve to reinforce or resist social structures and cultural expectations.
Editiert von: Sandra Weber, Claudia Mitchell
The Editors: Sandra Weber is Professor of Education and a Fellow at the Simone de Beauvoir Institute at Concordia University, Montreal.
Claudia Mitchell is a Professor and Chair in the School of Education at the University of Natal, South Africa. Her most recent book, Researching Children's Popular Culture: The Cultural Spaces of Childhood (with Jacqueline Reid-Walsh) was published in 2002.
Together, Weber and Mitchell have co-authored That's Funny, You Don't Look Like a Teacher: Interrogating Images of Identity in Popular Culture (1995) and Reinventing Ourselves as Teachers: Beyond Nostalgia (1999). Co-founders of the Image and Identity Research Collective, they have also co-produced two documentaries on prom dressing, girlhood, and youth culture: Canadian Pie (2002), and Dress Fitting (2000).
Autor: Sandra Weber
ISBN-13 :: 9780820461182
ISBN: 0820461180
Erscheinungsjahr: 22.06.2004
Verlag: Lang, Peter
Gewicht: 422g
Seiten: 298
Sprache: Englisch
Sonstiges: Taschenbuch, 228x151x20 mm, 31 fig.
Mehr von

Weitere Artikel von