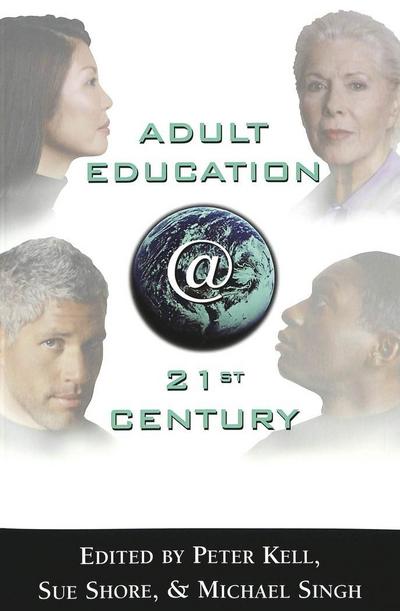 Adult Education @ 21st Century
Global Futures in Practice and Theory
1
Exklusives Verkaufsrecht für: Gesamte Welt.
4
Contents: Shahrzad Mojab: From the «Wall of Shame» to September 11: Whither Adult Education? - Barbara Toepfer: Global/Local Education for Adults: Why is it a Must for the 21st Century? - Liv Mjelde: Global Restructuring: New Challenges to the Political Economy of Knowledge - Peter Kell: Questioning Developmental Globalism: Threats to Language and Ecological Sustainability - Koo Yew Lie: Multicultural Meaning Makers: Malaysian Ways with Words and the World - Shanta Nair-Venugopal: Adult Educators' Talk: Responding to the Challenges of Linguistic Normativity - Sue Shore: Reflexive Theory Building «After» Colonialism: Challenges for Adult Education - Gayle Morris/David Beckett: Performing Identities: A New Focus on Embodied Adult Learning - Roger Harris/Michelle Simons: Adult and Vocational Educators: Their Changing Work and Professional Development - Bobby Harreveld: The Work of Adult Literacy Teachers - Michael Singh/Lynne Nengying Li: Educating Adult Researchers: Mitigating Neo-conservative Globalism and Mediating Eco-cultural Sustainability - Ambigapathy Pandian/Shanthi Balraj Baboo: Technological Literacy for Adults: Insights from Malaysia - Andrew Scown: On-line Supplementation of Adult Education: A Change in Pedagogy and a Pedagogy of Change - Leanne Reinke/Paul James: Learning Reflexively: Technological Mediation and Indigenous Cultures - Mike Brown: People's Power against the Empire: Re-framing Work-related Teaching/Learning - Tara Fenwick: Learning in Complexity: Work and Knowledge in Enterprise Cultures - Michael Singh/Sue Shore: Pedagogies of Global/Local Hope: Disobedience in the Face of Globalism.
3
Adult Education @ 21st Century tackles tough questions concerning how to respond to and engage with transnational education markets and multicultural diversity in a global environment typified by disorienting changes and continuities. Researchers from different countries demonstrate various ways in which the teachers of adults mediate and mitigate the oppressive consequences of the contemporary transition to globalization and the resentment and alienation to which it gives rise. Based on analyses of their work, the contributors argue that teachers and policy makers involved in adult education are significant agents of innovation. From Germany and Norway, across Malaysia and Australia to Canada, the contributors to this book are engaging in transformative projects that are informed by globally oriented thinking and actions aimed at enhancing local viability.

Editiert von: Peter Kell, Sue Shore, Michael Singh
The Editors: Peter Kell is Associate Professor in Adult Education and Further Education at the University of Wollongong, Australia, and has extensive leadership and research experience in vocational, professional and tertiary education. His research interests include adult literacy, transnational education markets, and technological innovations in vocational education. He is the co-author, with Michael Singh and Ambigapathy Pandian, of Appropriating English: Innovation in the Global Business of English Language Teaching (Peter Lang, 2002). Sue Shore is an active researcher and academic in adult education at the University of South Australia and past Director and Chair of the National Adult Literacy and Numeracy Research Consortium. Her research interests cover the uses and abuses of practitioner research, explorations of the literate subjectivities, and understanding the effects of whiteness on theory building. Michael Singh is Professor of Education at the University of Western Sydney where he is researching changes and continuities in education in terms of social justice and the sustainability of ecological and multicultural diversity. Professor Singh's research focuses on the transitions in educational policies, pedagogies, and politics arising from the historical, ideological, and localizing practices of globalization. Professor Singh studies educational change/continuity in relation to the shifts between industrial to post-industrial political economies, information management and knowledge production, as well as national and post-national identities.
Autor: Peter Kell
ISBN-13 :: 9780820461106
ISBN: 0820461105
Erscheinungsjahr: 18.11.2003
Verlag: Lang, Peter
Gewicht: 449g
Seiten: 299
Sprache: Englisch
Sonstiges: Taschenbuch, 230x154x23 mm, 4 fig., 1 table