Autor:
Giovanni Boccaccio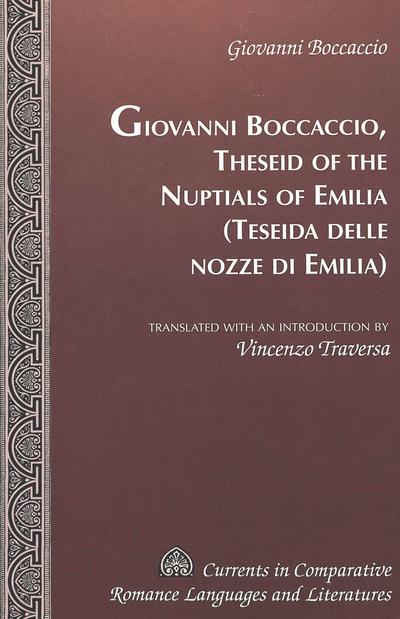 Theseid of the Nuptials of Emilia. Teseida delle nozze di Emilia
116, Currents in Comparative Romance Languages and Literatures
Exklusives Verkaufsrecht für: Gesamte Welt.
The first epic poem written in Italian is the Teseida delle nozze di Emilia (Theseid of the Nuptials of Emilia) by Giovanni Boccaccio, the well-known author of the Decameron. Conceived and composed during the Florentine author's stay in Naples, it combines masterfully both epic and lyric themes in a genre that may be defined as an epic of love. Besides its intrinsic literary value, the poem reflects the author's youthful emotions and nostalgia for the happiest times of his life.
Autor: Giovanni Boccaccio
The Translator: Vincenzo Traversa, a United States citizen born and educated in Italy, has taught Italian language and literature at UCLA, Stanford University, and the University of Kansas. He holds a Doctorate in English language and literature and a Ph.D. in Romance languages and literatures from UCLA. He is Professor of Italian and Humanities at California State University, Hayward, where he served as Chairman of the Department of Foreign Languages and Literatures for thirteen years. His works include Parola e Pensiero, Idioma in Prospettiva, Frequency Dictionary of Italian Words (coauthor), Racconti di Alberto Moravia, Luigi Capuana: Critic and Novelist, and The Laude in the Middle Ages (Peter Lang, 1994). The Italian government awarded him the Cross of Knight in the Order of Merit and he was honored in the 2000 edition of Who's Who Among America's Teachers.
Autor: Giovanni Boccaccio
ISBN-13 :: 9780820461069
ISBN: 0820461067
Erscheinungsjahr: 24.09.2002
Verlag: Lang, Peter
Gewicht: 919g
Seiten: 595
Sprache: Englisch
Sonstiges: Buch, 236x156x38 mm
Mehr von

Weitere Artikel von
Mehr zum Thema