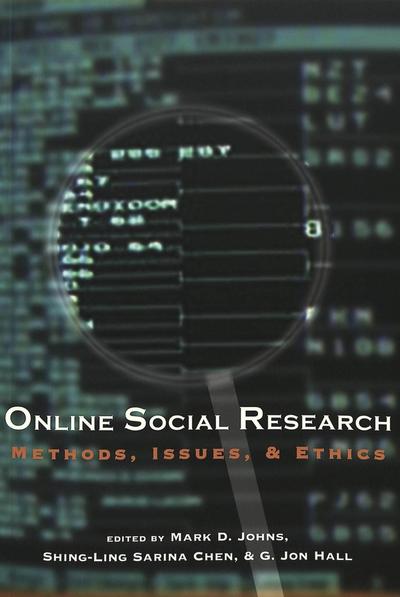 Online Social Research
7, Digital Formations
Methods, Issues, and Ethics
Exklusives Verkaufsrecht für: Gesamte Welt.
Contents: Norman K. Denzin: Prologue: Online Environments and Interpretive Social Research - Clifford G. Christians/Shing-Ling Sarina Chen: Introduction: Technological Environments and the Evolution of Social Research Methods - Matthew Williams/Kate Robson: Reengineering Focus Group Methodology for the Online Environment - Sharon S. Kleinman: Researching OURNET: A Case Study of a Multiple Methods Approach - Kathleen LeBesco: Managing Visibility, Intimacy, and Focus in Online Critical Ethnography - Mary K. Walstrom: «Seeing and Sensing» Online Interaction: An Interpretive Interactionist Approach to USENET Support Group Research - Amy S. Bruckman: Introduction: Opportunities and Challenges in Methodology and Ethics - Mark D. Johns/G. Jon Hall/Tara Lynn Crowell: Surviving the IRB Review: Institutional Guidelines and Research Strategies - Lori Kendall: Participants and Observers in Online Ethnography: Five Stories About Identity - Annette N. Markham: Representation in Online Ethnographies: A Matter of Context Sensitivity - Shing-Ling Sarina Chen/G. Jon Hall/Mark D. Johns: Research Paparazzi in Cyberspace: The Voices of the Researched - Steve Jones: Introduction: Ethics and Internet Studies - Jim Thomas: Reexamining the Ethics of Internet Research: Facing the Challenge of Overzealous Oversight - Susan B. Barnes: Issues of Attribution and Identification in Online Social Research - Katherine M. Clegg Smith: «Electronic Eavesdropping»: The Ethical Issues Involved in Conducting a Virtual Ethnography - G. Jon Hall/Douglas Frederick/Mark D. Johns: «NEED HELP ASAP!!!»: A Feminist Communitarian Approach to Online Research Ethics - Charles Ess: Epilogue: Are We There Yet? Ethical Guidelines for Online Research.
Online Social Research: Methods, Issues, and Ethics is a collection of essays by veteran online researchers who provide testimonial illustrations as to how traditional research methods may be modified for effective online research as well as identify and discuss the critical issues and dilemmas encountered. The former serves as a resource for teachers, students, and researchers who utilize online environments for information gathering. The latter is designed to stimulate ongoing debates and creative ideas about an as yet nonregulated arena of research. Online Social Research addresses online research which are practiced in the fields of communication, journalism, sociology, psychology, marketing, education, medicine as well as related disciplines that may have occasions to utilize surveys, interviews, and observations for information gathering in online environments. Since this book deals with methodological consideration, it is designed as a text for research methods classes as well as a resource for researchers.
Editiert von: Mark D. Johns, Shing-Ling Sarina Chen, Jon G. Hall
The Editors: Mark D. Johns is Assistant Professor in the Department of Communication/Linguistics at Luther College in Decorah, Iowa. He received his Ph.D. from the University of Iowa. His research interests include social impacts of new communication technologies and intersections of media, religion, and culture.
Shing-Ling Sarina Chen is Associate Professor of Mass Communication at the University of Northern Iowa. Her research interests include communication technologies and social structures, electronic media and the community, audience experiences, and social relationships in cyberspace.
G. John Hall is Professor Emeritus at the University of Northern Iowa (UNI). He received his Ph.D. from Southern Illinois University, Carbondale. During his twenty-eight year tenture in the Department of Communication Studies at UNI, he has established a diversified record fo articles and papers for publication and presentation.
Autor: Mark D. Johns
ISBN-13 :: 9780820461014
ISBN: 0820461016
Erscheinungsjahr: 18.11.2003
Verlag: Lang, Peter
Gewicht: 391g
Seiten: 273
Sprache: Englisch
Auflage New
Sonstiges: Taschenbuch, 229x154x20 mm, illustrations
Mehr von

Weitere Artikel von
Mehr zum Thema