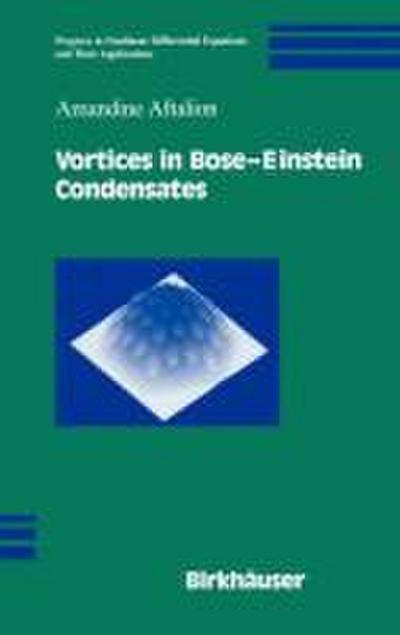 Vortices in Bose-Einstein Condensates
67, Progress in Nonlinear Differential Equations and Their Applications
Academic/professional/technical: Postgraduate. Adult: General. Academic/professional/technical: Undergraduate
One of the key issues related to superfluidity is the existence of vortices. In very recent experiments on Bose-Einstein condensates, vortices have been observed in various conditions. This monograph is dedicated to the mathematical modelling of these phenomena. The mathematical tools employed are energy estimates, Gamma convergence, and homogenization techniques. The mathematical analysis is made in the framework of the Gross-Pitaevskii energy. Results are presented and open problems related to recent experiments are explained.
The Physical Experiment and Their Mathematical Modeling.- The Mathematical Setting: A Survey of the Main Theorems.- Two-Dimensional Model for otating Condensate.- Other Trapping Potentials.- High-Velocity and Quantam Hall Regime.- Three-Dimensional Rotating Condensate.- Superfluid Flow Around an Obstacle.- Further Open Problems.
This book provides an up-to-date approach to the diagnosis and management of endocarditis based on a critical analysis of the recent studies. It is the only up-to-date clinically oriented textbook available on this subject. The book is structured in a format that is easy to follow, clinically relevant and evidence based. The author has a special interest in the application of ultrasound in the study of cardiac structure and function.
Autor: Amandine Aftalion
ISBN-13 :: 9780817643928
ISBN: 0817643923
Erscheinungsjahr: 04.07.2006
Verlag: Springer Basel AG
Gewicht: 499g
Seiten: 203
Sprache: Englisch
Auflage 06001, 1st ed.
Sonstiges: Buch, 236x161x19 mm, 18 illustrations